eHealth Innovations Priority Setting Workshop Summary Report
October 15-16th, 2013
Montreal, Quebec
Table of Contents
---
I. Introduction
Background eHealth Innovations
The rising cost of health care, the ageing demographic, and the increasing prevalence of chronic conditions are demanding massive changes in health care delivery systems. Transformative changes in health care delivery are needed. A key enabler of these transformative changes in care delivery is the use of appropriate health information technologies. Building on the foundations established for information exchange through Canada's investment in electronic health records (EHRs), the current climate is ideal to support the development of evidence-based eHealth innovations that will empower patients as partners in their care, support evidence-based individualized care, and monitor health system performance as well as population health. Moreover, eHealth innovations will support new research on the factors influencing care along the continuum and for high systems users with complex needs, including mental health.
In the field of eHealth, there are a variety of small and medium-sized enterprises that are involved in developing "smart" tools to improve the health of Canadians, but lack the ability to integrate these tools into the health care system. There is also a growing community of researchers in Canada and worldwide with expertise in developing, implementing, and evaluating the impacts of eHealth innovations on health and health system outcomes.
eHealth Innovations can be defined as 'new and better ways to do valued things to improve the health of the population and health care delivery' (Ivey School of Business). Through its eHealth Innovations initiative, the CIHR Institute of Health Services and Policy Research (IHSPR) aims to develop meaningful partnerships between academia and industry to ensure that innovations are co-developed, tested in patient, clinical and population health environments, assessed to determine cost-effectiveness, commercialized where successful and adopted to deliver expected health impacts.
Two substantive research areas have been selected as the initial priorities for research, as eHealth enabled changes in health and social/educational programs in urban, rural and remote settings will have a substantial impact on access, quality, cost of care and outcomes in these populations. Moreover, these issues account for 50% of expenditures in the health system, and so more effective and efficient means of addressing care gaps and delivery approaches will have a substantial impact on preventable health expenditures. These substantive research areas are:
Mental health; and
Chronic disease prevention and management with an emphasis on patients with complex needs and multiple health conditions.
Further, four priorities for innovation, implementation and evaluation in eHealth for CIHR have been identified:
Patient-centered eHealth: Empowerment and self-management in conjunction with caregivers and the health care team;
Next-generation decision support tools to better customize individualized care decisions;
Health systems data and population health for monitoring performance and accountability and for timely monitoring for detection of disease; and
Supporting care along the continuum.
Workshop Objectives
On October 15-16, 2013 IHSPR brought together leading researchers, industry and association representatives and key stakeholders to seek recommendations for building the next stages of the CIHR eHealth Innovations Initiative.
The objectives of this meeting were to:
Identify priority eHealth research areas related to mental health, patients with complex needs/co-morbidities and rural-and remote populations (including additional analyses of the stage of the innovation, its implementation and evaluation).
Identify the conditions necessary to facilitate successful innovation and partnerships involving industry, researchers and end-users (patients, families, clinicians, health system managers, and policy makers).
Identify the mechanisms needed to facilitate the development of global partnerships and applications.
Identify the conditions and funding mechanisms that will facilitate the development of partnerships and successful innovation, implementation and evaluation.
The two-day workshop included formal presentations and mixed group break-out sessions for participants to exchange ideas on how to achieve these objectives. The following report provides a summary of the main ideas arising from these discussions.
II. Identifying Priority Areas for Innovation and Evaluation in Three Target Areas
Mental Health
Michael Krausz, University of British Columbia
'Visionary competence' is necessary to understand the direction of e-mental health, how it can lead to system changes and address the challenges that lie ahead.
Mental health accounts for 25% of the burden of disease among the difficult-to-reach age group of 10-45 year-olds, and can be described as the 'chronic disease of the young.' At present, accessibility and quality of care are lacking for two thirds of mental health patients. Of those being treated, only 10% are actually being treated by mental health specialists.
Patient empowerment is at the core of delivering effective mental health treatment. Today, new technologies enabled by the internet as well as new gaming technologies provide new ways to access patients.
Tremendous potential in e-mental health exists in the following areas:
Screening and assessment tools are already being developed and already available such as 'Mind Check' (screening of mental distress for youth), developed by BC Mental Health and Addiction or the on-line Cognitive Behavourial Therapy (CBT) tool created by the University of Canberra, 'Mood Gym'. Resources such as these can be linked together and integrated into practice to create an interface to direct counseling or care.
E-mental health could integrate the interactive presentation of information into interventional approaches to aid informed patient decision-making.
E-mental health could provide a short cut to early detection and intervention due to its inherent accessibility, protection from stigma and, in no small way, being fun to use. For example, projects are in place in Emergency Rooms where substance use problems are assessed while patients are waiting for care.
E-mental health is creating new research opportunities to integrate research and interventions in settings such as school systems.
The following graphical representation offers recommendations on where and how to implement e-mental health. Moving from the bottom left to the top right, the technical and psychological complexities increase.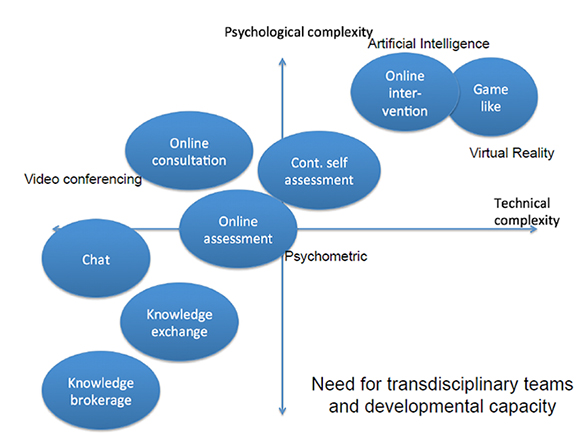 Figure 1 long description
In closing Dr. Krausz offered the following recommendations:
The core developmental principle should be to empower patients;
Implement existing solutions including assessment and online treatments such as CBT;
Integrate modules based on clients' needs; and
Broaden the scope by integrating new technologies, such as gaming or virtual reality.
'Remember, the iPod changed the distribution, accessibility, consumption pattern, hardware and software without ever changing the music. Likewise the Web can shift the paradigms of mental health care.'
Chronic Disease Prevention and Management for Patients with Complex Needs
Helen Angus, Ontario Ministry of Health and Long-term Care
Marc Overhage, Siemens Healthcare
Current estimates show that in some Canadian provinces, health care will consume as much as 70% of the provincial budget within 12 years if current spending rates continue. As a result, for many provinces reduced health care budgets have become 'the new normal'. This reduced spending is met by unprecedented challenges in the health care system requiring significant resources. For example, 1% of the population in Ontario consumes 33% of health care resources. This population consists largely of a growing number of aging, complex and high-needs patients who each require access to multiple health care sectors (e.g., a 'team' of health care providers).
There are three critical components for the successful development of eHealth innovations for patients with complex needs and multiple health conditions. These include:
Communication and collaboration between providers coupled with motivation and engagement of patients in their care;
Improvement in the analysis of data - capturing structured data from providers is difficult and providers are often spending more time getting data and less time with patients - and
Leveraging predictive models to address individual patient risk and benefits.
Rural & Remote Service Delivery Cross Cutting Target
Ed Brown, Ontario Telemedicine Network
eHealth Technologies including telemedicine can transform the future of health care by delivering care remotely. Organizations including the Ontario Telemedicine Network have members including 1,110 health care practitioners, several educational organizations and more than 1,600 sites to offer patients benefits including:
Clinical videoconferencing;
Provider e-consultations in dermatology, ophthalmology, wound care, infectious disease, and psychiatry;
Acute care, crisis tele-psychiatry and virtual critical care;
Health Learning; and
Tele-homecare.
A 2008 Telehomecare study of self-reported data from 813 enrolled patients with congestive heart failure and chronic obstructive pulmonary disease suggested that these innovations yielded a 64-66% decrease in hospital admissions, 72-74% reduction in Emergency Room visits, 16-33% decrease in number of primary care physician visits and a 95-97% reduction in walk-in clinic visits.
The graphic demonstrates the relationship between rural and urban communities, quality and efficiency of care and access to services.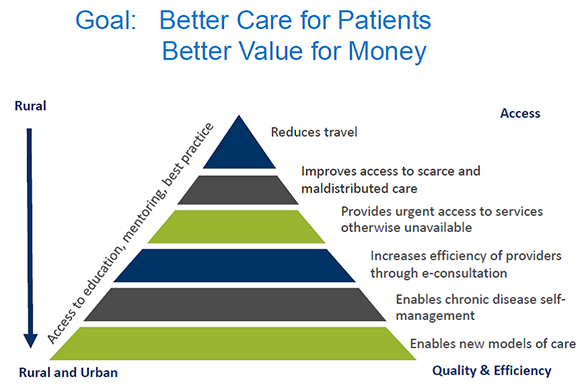 Figure 2 long description
Dr. Brown noted that rural needs are similar to urban ones, but only more so. Several key gaps identified included stronger provider/interprofessional collaboration and the need to improve patient engagement and self-management as a fundamental part of health care delivery. Additionally, evidence-based pathways and quality elements are needed for patient e-consult templates, apps and chronic care systems as well as a change in the culture of health care catalyzed by large data aggregation and associated analytics. Aggressive leadership is needed to lead change - and patience.
III. Identifying Priority Areas for Innovation and Evaluation in Initiative Areas
Patient-Centered eHealth: Empowering Patients to Manage Chronic Conditions and Improve Their Health
Sara Ahmed, McGill University
Ken Mandl, Boston Children's Hospital, Harvard Medical School
Health information technologies (HIT) need to address individual patient's needs and concerns in order to empower individuals and help them develop the self-management skills required to undertake the tasks needed to live well with one or more chronic conditions. This can be accomplished by:
Applying evidence-based self-management strategies to guide the development of HITs;

e.g. The Patient Health Portal is a personalized web-based application that combines personal health information with opportunities to self-monitor and receive feedback from a care team.

Creating modular self-management applications with core generic chronic disease modules that can be adapted to the individual needs of patients;
Increasing the access to and uptake of health information technology (HIT) by those least likely to adopt these systems;
Developing standards for the development, evaluation and reporting of HIT systems.
Consumers are becoming engaged in health care technologies via web portals, which tend to be more physician-centred, as well as social networks, which are more patient-centric but usually disconnected from the health care system. Upcoming major innovations in consumer health information technologies could include "app stores" for health information and patient-centered, rather than simply clinician-centred EMRs.
Currently, consumer health information is not easily exchangeable between sources. Our health care system needs the support of a flexible information infrastructure that facilitates innovation in wellness, health care and public health.1 Lessons from large-scale information-technology successes should be drawn from other fields, which tell us that system components should not only be interoperable but also substitutable. For example, Apple iPhone uses a software platform with a published interface that allows software developers outside Apple to create apps. Other important areas for development include the regulation of health care apps (including questions of usefulness and safety) and licensing requirements.
Next Generation Health Professional Decision Support Tools to Enable Individualized Care
James Cimino, US National Institutes of Health
Anne Holbrook, McMaster University
Improved access to patient data is important for physicians. Their information needs relate to the patient about one third of the time. EHRs are notoriously difficult to navigate due to different data collection systems, as well as how the data is logged (for example, by patient visit). By studying clinician workflow shortcuts they take through the EHR can be evaluated and used to produce more effective and efficient systems.
Customized knowledge - meaning the integration of data and knowledge - is a form of decision-support. Historically, this customized knowledge has taken the form of alerts and reminders. Another tool that can be used to integrate knowledge and data resources into EHRs is "Info Buttons". These buttons appear in the EHR next to medications or lab tests and, when clicked, launch the Info Button Manager that outlines information available for that drug or lab test.
Next-generation computerized decision support needs to be smarter, faster, and stronger. Real-life health care practices are chaotic, and result in widespread duplication of processes. However, our ability to provide more effective electronic decision-support tools is being enhanced by the following developments:
The introduction of the Health Level 7 (HL7)2 Info Button standard to eliminate barriers between EHRs and commercial knowledge resources;
Meaningful-use legislation in the U.S., in force since March 2014, that is pushing vendors to improve their diagnostic products to improve safety, efficiency and quality of care; and
Health IT reaching into non-clinical settings, especially the home.
Genetic data will soon also assist in drug dosing decisions. Once whole genome sequencing information becomes available for a critical mass of patients, clinicians will able to search EHRs for information on other patients with a similar genetic make-up to aid in decision making.
It must be noted, however, that current computerized decision support systems (CDSS) are not yet as effective as they need to be. Expertise is scattered and non-transferable. CDSS' are complex and expensive to develop, maintain and evaluate. Additionally, high quality research methods are scarce. Ongoing high quality evaluation and accountability is required to force improvements.
Timely Detection and Intervention: New Tools for Monitoring Population Health
Scott Evans, InterMountain Health Care
David Buckeridge, McGill University
John Brownstein, HealthMap, Boston Children's Hospital
An important challenge to the effective use of population health data is ensuring that information is quickly accessible to decision makers. As such, technologies such as syndromic surveillance systems are becoming increasingly important.
The following are examples of currently available population-level health surveillance tools:
HealthMap - Detects outbreaks of disease by turning digital sources of information (e.g., social networking sites, SMS messaging, blogs, on-line news reporting, etc.) into infectious disease intelligence. Reduced the number of days from outbreak start to outbreak discovery from 167 days in 1996 to 20 days in 2010;
Outbreaks Near Me - Reports on vector-borne alerts, like the West Nile virus, tick-borne disease or Lyme disease; gastrointestinal alerts, like E. Coli, Listeriosis, Norovirus or water-borne illness; and 83 other alerts, such as poisonings and pests; and
Flu Near You - a web-based crowd-sourced, influenza surveillance system.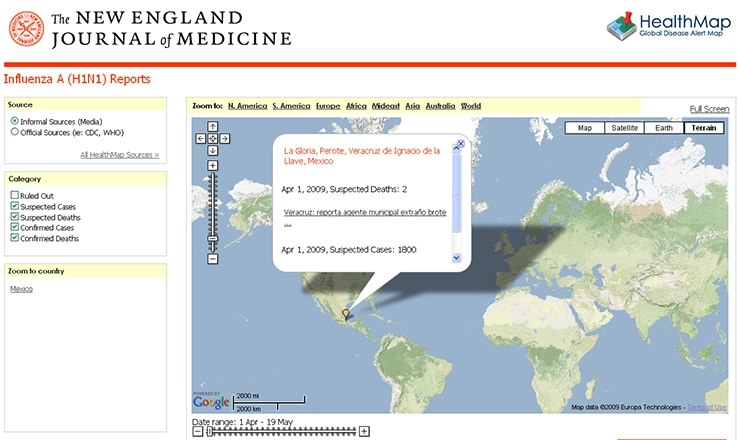 Figure 3 long description
Other innovative health surveillance projects include:
Tracking obesity with Facebook (in collaboration with CDC);
Street Rx - tracks the current street price for prescription drugs;
MedWatcher - the public reports side effects of prescription medications they are taking making them participants in drug safety.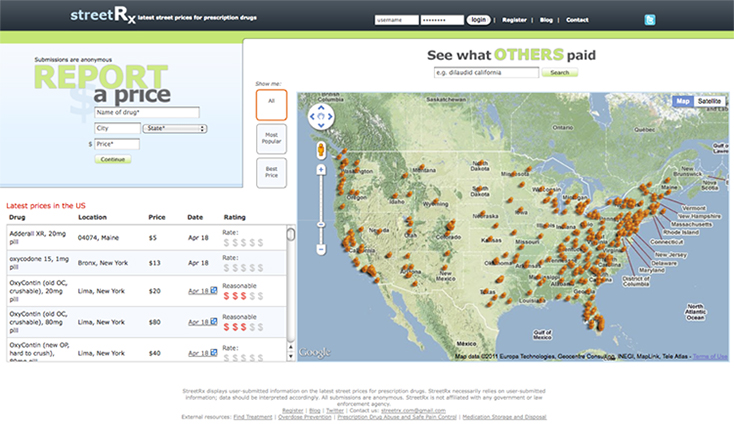 Figure 4 long description
New innovations are being used to automate the transfer of data from hospitals to public health departments via automatic capture, transmission, case detection and routine analysis. A significant challenge is generating comprehensive and useful data from the large amounts of data available from longitudinal, population-based studies. An integrative approach must be developed so that data can be pulled together to present useful strategies for improving health. Diagnostic accuracy could be improved with two-way flow of data between clinicians and public health using data alerts in EHRs.
These innovations demonstrate value in the fusion and visualization of distributed electronic resources. Novel internet-based collaborative systems can play an important complementary role in gathering information quickly and improving coverage and accessibility. However, validity, specificity, and privacy are still issues. These early efforts to tap the power of digital tools demonstrate important steps in improving health systems as well as engaging the public as participants in the public health process.
IV. Discussion and Recommendations: Priorities for Innovation, Implementation and Evaluation
Workshop participants were divided into six discussion groups and each group was assigned both a research area (patient-centered eHealth, next generation health professional decision support tools, and new tools for population health monitoring) and a sub-population (mental health or chronic disease prevention and management). The groups were asked to list their top three priorities for innovation for their assigned areas and sub-populations, and to consider the rural/remote service delivery setting and integration across the continuum from personal health care to population health. The top priorities for each of the discussion groups are listed below.
Research Area
Sub-population
Mental Health
Patients with complex needs
Patient-centered eHealth

Use existing data sources to identify gaps and needs in mental health.
Integrate and evaluate multiple eHealth solutions for clinicians and patients and evaluate how they enhance and complement current care across the continuum including: EHRs, Personal Health Records (PHRs); Apps; and Tele-health.
Scalable evaluation - rolling out known systems/apps and evaluate impact.
Need platform of ongoing work in technology and industry.
Standardization of metrics - outcome and implementation/processes.

Focus on the top 5% of high needs patients:

Reduce admission after high intensity events;
Keep patients at home (including for end-of-life care);
Incorporate social networking;
Coordinate care across multiple providers;
Consider remote monitoring;
Experiments, including gameification.
Support fundamental principle of the ownership and stewardship of data – the patient owns the EHR and it travels with them.

Next generation health professional decision support tools

Develop tools for assessment and screening that will support integrated education (explaining what you are doing, what you are looking for and the consequences).
Increase capacity building through mentoring, e-consults and telemedicine resources.
Develop provider education around stigmatization (modules that address components to decision making processes) and guideline development.

Determine, then evaluate for effectiveness, the best interface and content between primary care health practitioners and specialists through e-consults.
Investigate the needs of clinicians regarding information and user interface (beyond hardware and software) to optimize workflow.
Develop tools for medication and lab reconciliation and evaluate them from patient-outcome and efficiency perspectives.

New tools for population health monitoring

Reduce stigma of mental health problems through the development of eHealth tools.
Develop proxy measures and screening tools, especially for children and youth to support early interventions.
Develop population mental health monitoring and surveillance tools and interventions.

Integrated population health data access through innovative private-public models, and synergies with SPOR SUPPORT Units.
Cross-validate, fuse and link traditional and non-traditional data streams.
Translate analytical methods to decision support tools in "practice" settings.
Evaluating impacts and demonstrating value.
Building system and human capacity to utilize support.
V. Establishing Effective Partnerships for Innovation, Implementation and Evaluation Among Industry, Clinicians, Patients, and Researchers
What Informatics Has to Offer
Lucila Ohno-Machado, University of California San Diego
If patient data, starting with the initial encounter with the health care system, becomes part of 'big data', it might then be used to benefit the patient through personalized medicine in the form of decision support tools, guidelines, medical education, etc. The intersection of pharmacy informatics (such as drug metabolizer genotypes), biomedical informatics and bioinformatics is where predictive analytics are applied to allow the personalization of medicine.
The most important areas of personalized medicine are: 1) prevention and risk assessment related to the personal prediction of disease; and 2) diagnosis and therapy using tools designed to assist in clinical decision-making for therapy, monitoring and feedback.
One example of personalized medicine already in use is the identification of a patient's genotype with respect to drug metabolism, in order to tailor the dose of medicine to that patient. For example, patients who are CYP2C19 poor metabolizers are not able to properly activate the clopidrogrel and thus may have poor effectiveness and increased CV event rates following acute coronary syndrome (ACS) or percutaneous coronary intervention (PCI). Similarly, warfarin has different dosing requirement in patients with different genotypes based on variations in CYP2C9 and VKORC1. Having access to this information can support clinical decision-making.
The globalization of informatics (i.e., the sharing of data and specimens) can accelerate discoveries and translate them into clinical practice. Informatics tools can help several critical processes, including:
Bio-specimen management systems
Clinical trial management systems
Observation studies databases
Clinical decision support systems
Predictive models
Simulation systems
Dr. Ohno-Machado presented two models developed by her research group:
iDASH - a model for sharing data access where the data gatekeeper becomes the patient rather than the health care institution (modeled below).
iCONCUR (informed CONsent for Clinical data Use for Research) – that allows patients to provide consent for the use of their data for research.
The following graphic depicts the iDash model: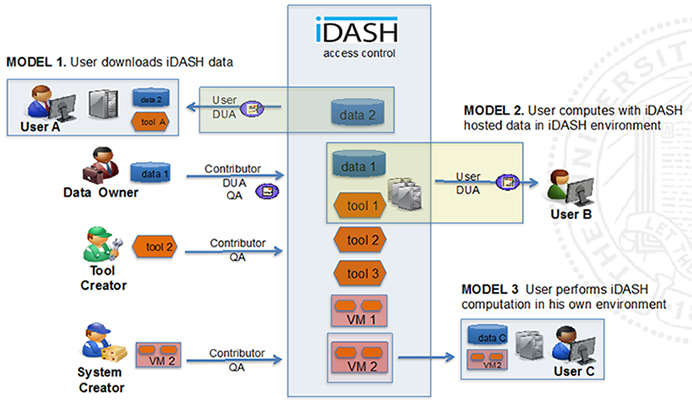 Figure 5 long description
Anonymizing data can be helpful as it removes the need for individual patient consent for the use of the data. However, if the data is completely anonymized then it also becomes less useful. It is important to earn the patients' trust and ensure they understand how their data will be used. Providing this information is often an incentive for patients to share their data for research purposes.
Conditions Conducive to Sucessful Partnership and Innovation
Anne Snowdon, Ivey International Centre for Health Innovation, Western University
In Canada, health care consumes 50% of tax revenues, among the highest cost per capita of among OECD countries. We rank 13 out of 17 in the use of innovation, yet among the top 4 in the creation of new knowledge. For the Ivey School of Business innovation is defined as "new or better ways to do valued things".
Within the OECD, trends show a shift towards community models of care and chronic illness management; 24/7 accountability for health care in communities; financial models that incentivize providers to achieve quality outcomes; and engagement of consumers in the management of their own health and wellness, which also drives competition among health care agencies.
A concerted strategy must be developed in Canada by the various stakeholders to foster effective collaboration and knowledge sharing. Combinations of partnerships become very important for the agenda of advancing eHealth Innovation. Granting councils need to collaborate to make these interdisciplinary collaborations possible and align interests to ensure all stakeholders have 'skin in the game'.
The following groups of stakeholders provide critical value to the development of eHealth Innovation: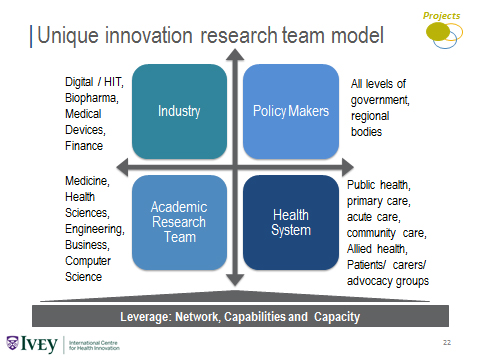 Figure 6 long description
Industry brings a 'Return on Investment' focus to the team, concentrating on how the system will work and what it requires to be successful.
Academic research teams provide exposure to multiple perspectives and create evidence for value and impact, potential scalability, and ensure scientific neutrality.
Policy makers create the environment to support the implementation of innovation and evidence-based policy.
The Health System leaders create a culture of innovation.
Clinicians re-design care models.
Patients use the tools produced through innovation to connect with their health care providers and manage their health.
Successful innovation requires impact at the system level where the plan for scalability is well defined. Leadership and the engagement of health system providers are central to a productive and sustainable re-design of the health system using eHealth technology and successful scalability. Finally, collaborative networks, including 'living laboratories' are needed to develop and test new or existing technologies in the health sector.

Figure 7 long description
Conditions Necessary to Facilitate Successful Innovation and Partnership for Industry, Researchers and End-Users
Elaine Heusing, ITAC
Susanne Flett, Health Tech Consultants
David Chan, McMaster University
William Ghali, University of Calgary
Bill Pascal, Richard Warren & Associates
Susan Anderson, Alberta Health
Shelagh Maloney, Canada Health Infoway
The Issues
There are many existing innovations that, if broadly adopted, would leapfrog health systems far ahead, notwithstanding new innovations in the conception and development stages. Governmental procurement policies have had a detrimental effect on the adoption of new innovation and technologies. Intellectual property and licensing regulations need to be clarified. From the public policy and program perspective, closer collaboration between the health and industry/tech sector is needed to better bridge mutually beneficial objectives.
Recommended Solutions
Solutions to the above issues include considering the support of innovation through many small, targeted investments focused on local-scale innovations designed to solve specific pain-points. To achieve this goal positive, constructive working relationships with entrepreneurs must be built. There must also be a willingness to see failures as opportunities to learn what works, and what does not work. Governments must identify the priority pain-points.
There have been strong recommendations for the establishment of collaborative networks that bring together researchers, health systems, end-users and industry in a low risk and high return on investment environments. Industry, in particular, requires more rapid research results as well as access to living laboratories to demonstrate clinical benefit.
In some eHealth innovations, academic partners focused on evaluation, the SME on innovation and both worked with the health system administrator. The key ingredients for living laboratories include: identified pain-points that require change; interdisciplinary framework that includes partners across sectors; and funding mechanisms built to catalyze activity.
CIHR should assist in the development of the metrics and key performance indicators associated with measuring the impact of new technologies, as well as provide access with other granting partners to credible sources of evaluation. Care should be taken not to create highly prescriptive Request for Proposals as they may limit innovation.
Finally, it is vitally important to understand the point of view of the end-user and engage them in the development of eHealth innovations to ensure that they are user-friendly and effective.
A number of current funding mechanisms exist that can catalyze eHealth activity in Canada. These include:
CIHR Partnerships for Health System Improvement (PHSI) Grants;
CIHR eHealth Catalyst Grants;
Alberta Innovates – Health Services (AIHS) Innovation Voucher Program;
National Research Council Industrial Research Assistance Program (IRAP).
However, the field needs sustained engagement of a wider variety of cross-sectoral funding partners and might be modeled after the Drug Safety and Effectiveness network (DSEN), Strategy for Patient Oriented Research (SPOR) or the Networks Centre of Excellence (NCE) initiatives. Partners could collectively come to the table with funding to create an eHealth platform.
Funding partnerships with the following groups will be critical to the success of the eHealth Innovations Initiative:
Canada Health Infoway (CHI)
Canadian Institute for Health Information (CIHI)
Pharmaceutical Companies
Industry Groups
Provincial Health Research Funders
International health and innovation funding organizations
VI. Discussion and Recommendations: Conditions for Success
Small breakout groups identified the following necessary conditions for industry, researcher and end-user partnerships and successful innovations.
Identifying Need/Pain Points
Understanding what patients and their families need, but not excluding provider and health care system pain-points.
Partners
Opportunities to bring diverse players together (e.g., an eHealth network; a DSEN-type structure for health technology assessment of eHealth innovations) and ensure mutually beneficial collaboration amongst partners and funding agencies.
Dialogue among the various funding agencies to identify a common vision and the strategies required to achieve the objectives through a collaborative process.
End-user involvement in the grant review process and in the projects themselves.
Trust between industry and the clinical team and researchers – this can emerge from successful collaborations on smaller-scale projects like catalyst grants.
Funding Mechanisms
Funding mechanisms that go beyond traditional evaluation criteria and review mechanisms.
Small scale grants to evaluate new innovations.
Building researcher capacity.
Procurement processes that focus on value rather than an overly prescriptive Request for Proposals.
Living Laboratories
Health care providers that are willing partners to test the innovations.
Non-proprietary experimentation sandbox where private industry and researchers and decision makers can come together (virtual labs, hospitals and communities to simulate and apply research to improve models).
Evaluation
Defined evaluation strategy that quantifies the value of the innovation.
Impact assessments by researchers and end-users to illustrate the value of innovations.
Knowledge Translation and Scale Up
Shared understanding of what is going on in the field of eHealth, including lessons learned, and dissemination of lessons learned through a common platform accessible by all stakeholders.
Leadership of organizations in the scale-up of effective and efficient innovations.
Dataset or system that becomes a substrate for new innovation (e.g., a CFI-type concept invested in infrastructure, a lab with data or province database, etc.)
The groups next considered the requirements and challenges for innovators and researchers who want to work in partnership, outlined below.
Requirements:
Clarity around intellectual property ownership, which affects whether innovations get out of the lab to the user.
Incentives for end-user involvement in the projects (e.g., financial incentives).
Ability to scale-up to have a national impact across a variety of different environments (rural/remote).
Understanding potential partners' business models: what are the small and medium businesses looking for, what are their timelines, and where does the research fit in?
Time, trust, and familiarity with stakeholders, with realistic expectations of partners' motivations surrounding safety, risk, profit generation.
New approaches to non-standardized data, bringing together the players that need to be present to manage the new approaches (Google searches).
Increased academic capacity across the board, facilitated by CIHR support of teams composed of a diversity of backgrounds and disciplines.
Challenges
Risk adversity in funding creativity on the part of funding agencies.
The development timeframe is often too long for industry (e.g., between application, funding, receipt of funds, project completion).
Team Collaboration Requirements
An understanding of the goal, mandate and particular roles of each of the team members.
Demonstrated track record of eHealth innovation that predicts success.
Demonstrated multi-disciplinarity in clinical, technical, and business-model elements of eHealth.
Involvement of researchers, policy makers, industry, end-users (clinical and patient champions) and citizens, united around a common interest and translation plan. Partnerships with local stakeholders to ensure regional sensitivities are considered.
Potential for impact, value-add and scalability.
Innovation tested in a live environment with end-users.
Clearly defined and agreed to targets for improvement and an evaluation plan.
VII. Identifying Mechanisms to Facilitate the Development of Global Applications and Partnerships
Perspectives From Industry & Industry Supports
Mark Burbidge, NRC-EUREKA
Bill Dobson, NRC-IRAP
Mike Guerriere, TELUS Health Solutions
Marc Overhage, Siemens Healthcare
Typically, that which is interesting to researchers and gets published is not what interests companies. There is a 'valley of death' between research and practical product development. A high degree of predictability around the expected date of completion, cost and quality is required to obtain business approval. 80% of the market for health technology is in the United States. Health care is a multinational, not a global business.
As a community we need to learn how to communicate the eHealth concept; because of its unique and complex nature, and baggage from the political fallout of EHR implementation issues, the concept of eHealth is not well understood. Even the eHealth community has differing definitions of what is good and appropriate use of telecommunication technologies in health and public health.
It is increasingly important to implement a national program on digital literacy. Additionally, health workers need appropriate skills to operate in technological economy, otherwise there is a risk of creating a knowledge gap.
Lessons From Funders
Pamela Moss, NSERC
Ian Boeckh, Graham Boeckh Foundation
Michael Clarke, IDRC
Marcel D'Agostino, PAHO
Ken Simiyu, Grand Challenges Canada
The Natural Sciences and Engineering Research Council of Canada (NSERC) has as its vision to help make Canada a country of discoverers and innovators for the benefit of all Canadians. Approximately 16% of its annual funding in 2011-2012 was dedicated to Health and Related Life Sciences Technologies.
The NSERC-CIHR Collaborative Health Research Program (CHRP) supports interdisciplinary research between teams of natural scientists or engineers and health researchers that leads to knowledge and technologies that are useful for improving the health of Canadians. A primary requirement of CHRP includes significant involvement from a knowledge/technology user as a partner to validate the direction of the research. Through CHRP, NSERC and CIHR fund direct costs of 3-year projects (including costs associated with students, post-docs, consumables and equipment).
The Graham Boeckh Foundation sees eHealth as having a large and transformational potential but see it as having shown disappointing progress to date. While there is a lot of interest, activity, initiatives and funding, there is not enough communication, coordination and collaboration to generate successful momentum. eHealth projects require scale and staying-power to be transformational. eHealth research in Canada needs a special purpose initiative similar to the SPOR initiative, which will coordinate existing federal and provincial funding resources and tap private-sector funding, to support foundational and transformational technologies. Funding must be flexible to support sharing, coordination and collaboration between funding partners, while engaging patients, families, the non-profit sector and the general public. It is important to reduce the silos of eHealth research that currently exists and link data, methods and researchers more effectively.
Building on the success of the Mental Health Engagement Network (MHEN), a similar network and app for adults with mental illness was delivered by Lawson Health Research Institute in partnership with Canada Health Infoway and TELUS Health. This app is designed to help youth and their families proactively manage their mental illness. Through the app, users have access to their personal health information and can stay connected to their network of care providers through instant messaging. The app, which will be tested by approximately 150 youth patients, also includes regular surveys to gauge mood levels, and the ability to track a range of activities (from taking medication to visits with the doctor). An estimated 1.2 million Canadian children and youth are affected by mental illness—yet less than 20% receive appropriate treatment. With more than two-thirds of adults living with a mental health problem reporting that their symptoms first appeared during their youth, establishing the foundation for healthy emotional and social development early is vital.
Funded by the Canadian International Development Research Center (IDRC) and awarded to the South African Medical Research Council (MRC) in 2007, Jembi Health Systems is a not-for-profit company based in South Africa, focusing on the development of eHealth and health Information systems in developing countries. Dr. Clarke outlined the innovative work being undertaken by Jembi with a modular, open source EHR system, with open standards for interoperability in French, English, Spanish and other languages. Jembi is a private NGO founded by researchers using a sustainable revenue model. It is an excellent example of successful teamwork in a complex environment.
Dr. Clarke shared Michael Quinn Patton's model for complex teamwork:
Networking - Sharing information and ideas
Cooperating - Helping distinct members accomplish their separate individual goals
Coordinating - Working separately on shared goals
Collaborating - Working together toward a common goal but maintaining separate resources and responsibilities
Partnering - Shared goals, shared decisions, shared resources within a single entity.
Grand Challenges Canada (GCC) supports Bold Ideas with Big Impact in global health by funding innovators in low- and middle-income countries and Canada. Bold Ideas projects supported involve science/technology, social and business innovation. These projects focus on bringing successful innovation to scale, catalyzing sustainability and impact.
GCC aims to stimulate innovation with impact by identifying and tackling critical barriers between 'where we are and where we want to be'. GCC grantees are encouraged to use adopt an 'Integrated Innovation' approach for their applications, which is defined as coordinated scientific/technological, social and business innovation to develop solutions to complex global health challenges.
GCC funds proof-of-concept grants, valued at $100K in their open program. The grants are 12-18 months in duration, during which recipient must prove the project concept. Those who are successful can apply for a Phase II grant, which provides 50% of funding (in the form of loan, if the project is revenue generating). There is an expectation that a private sector partner to be engaged. Successful Phase II grant recipients can apply to receive seed financing from the global health fund. Throughout the process, GCC provides feedback to recipients to ensure their project's success.
Ten out of 400 proof-of-concept grants transition to scale. GCC finds that researchers are not always best positioned to undertake scale-up operations. Collaboration with industry to ensure scale-up is key. 70-80% of proof-of-concept applications include an eHealth component (2,200 total applications).
Critical lessons learned by GCC in the health innovation funding arena include: 1) it is easy to stimulate strong proof of concept projects, but it is critical to ensure scale-up activities are supported with partners that have 'skin in the game', and 2) in order to promote project sustainability it is necessary to ensure that the value of the innovation is shared by private sector partners.
There are multilateral platforms for eHealth strategies through the World Health Organization, and, in particular through the Pan-American Health Organization. A portal and eHealth laboratory have been established where data regarding eHealth in the region converges. PAHO will shortly be releasing a publication entitled eHealth Conversations. It is the result of conversations that have taken place amongst 400 professionals working on different topics such as EHRs, eHealth infrastructure and WHO tools.
VIII. Discussion and Recommendations: Structuring the Next Generation of eHealth Innovations, Including Funding Mechanisms
The key areas for research focus across the substantive areas of mental health and chronic disease prevention include:
Implementation research: Requires investigation into how to reduce barriers related to innovation, scale-up, procurement and evaluation, as well as building the system and human capacity to effectively utilize eHealth supports.
Comparative effectiveness: Includes integration of eHealth tools to combine, enhance or complement existing models of care. This will require the translation of analytical methods to evaluate decision support tools in practice settings. Engagement with providers (including nurses) is central to effective system re-design.
Impact Assessment: Necessary to demonstrate the validity of new innovations to businesses and potential funding partners (at both the patient and system levels) in order to move research from proof of concept to proof of relevance. Here the development of metrics/measures and evaluation models that capture value for the population and health system will be critical.
Cross-validation: Develop a cross-validation framework for longitudinal patient views across sources using a fusion and linkage of traditional and non-traditional data streams. Unique analytic techniques and software will be needed for clinical decision support and public health.
The production of a synthesis of existing knowledge related to eHealth, including past conditions for success, lessons learned, as well as investigation of the impacts of coalition-led funding mechanisms on governance and effectiveness will assist in a holistic approach to addressing these two populations' needs using eHealth Innovations.
IX. Next Steps and Closing Remarks: The Role of CIHR in Engaging the Right Players to Encourage Innovation
Specific areas where CIHR can have influence include:
Identification and promotion of new ideas:

Promote sharing of information about issues in health care from multiple disciplines.
Provide a venue that is safe from an entrepreneurial point of view (protected IP).
"Collaboratories" - create environments to expand opportunities for collaborator research.

Adoption:

Move to value/outcome-drive procurement.
Promote opportunities for patients to be involved in patient informatics.

Evaluation:

Promote the development and standardization of impact metrics for new technologies.
Provide access to credible sources of evaluation (academic resources) to help assess the impact of an idea or service (both Canadian and international).

Investment partnerships with industry:

Promote applied research to increase entrepreneurial access to capital.
Collaborate with other granting agencies to make these interdisciplinary collaborations possible.

Research Funding:

Create networks for eHealth innovation to attract large funders, similar to the DSEN network or PCORI that is funded to do comparative effectiveness research. Create a network of networks with patient engagement core to the learning health system.
Generate an Innovation Map of research in the Canadian eHealth community.
Promote awareness about eHealth possibilities and opportunities for future impacts.

Engage Policy Makers:

Promote eHealth as a public policy issue; focus on priority areas of concern in the health care system.

Support future research capacity:

Create more training opportunities for students working in the field of health informatics, etc.
Identifying new sources of research data.
CIHR-IHSPR will seek collaborations with other CIHR Institutes, industry partners, decision makers and Canada's leading researchers and practitioners to move forward on the eHealth Innovations initiative.
Footnotes
Date modified: