III Newsletter – June 2014
Message from the Scientific Director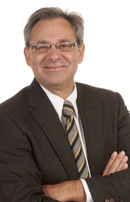 It is a pleasure to reach you through this newsletter at the beginning of a long-awaited summer season.
In April, the Institute visited Ottawa for its Spring meeting. This was also the last IAB for two of our members, Dr. Patrice Allibert and Dr. Peter Ernst. I would like to take this opportunity to thank them for their dedication to III, as well as their valued expertise and input in building our strategic initiatives.
The Institute is continually providing funding opportunities to its community, and I would like to remind you of the upcoming launch for the Planning and Dissemination Program, which is now a component of the Institute Community Support (ICS) program. There will be seven grants offered of up to $10,000 each. I invite the research community to apply to this funding opportunity in great numbers. There is also still time to send a letter of intent to the CQDM/CIHR Collaborative Opportunity in Personalized Medicine. The deadline is June 27th. Another important date is the June 23rd deadline to register for the 2014 Foundation Scheme 1st Live Pilot.
Also featured in this newsletter is an example of knowledge translation of infection and immunity research. We are always interested and pleased to hear from you and the impact your research has had on a particular field, so please don't forget to forward your own success stories to us.
Finally, I would like to highlight the move of Dr. Jennifer Raven, formerly an Associate in our Quebec City office, to her new position as the Ottawa-based Assistant Director of III. Jennifer has been an Associate with the Institute since March 2010 and started her new role on June 9th. Congratulations Jennifer!
Institute Advisory Board News
III Advisory Board Visited the Research Community in Ottawa
On April 15 and 16, the III IAB held its Spring meeting in the beautiful National Capital of Ottawa. Members of the board and staff had the opportunity to meet some of the infection and immunity research community when visiting University of Ottawa's main campus for a Meet-the-Community Event followed by an informal dinner.
IAB Member Departures
After many years of loyal service, III is sad to lose the services of Dr. Patrice Allibert and Dr. Peter Ernst, two of III's valued IAB members. They have served for 3 and 6 years respectively, and helped III to develop several major Initiatives and a new strategic plan. They will now continue to pursue their own research interests; molecular diagnostics for Dr. Allibert, CEO of GenePOC Inc.; and mucosal immunity for Dr. Ernst, Professor at UC San Diego.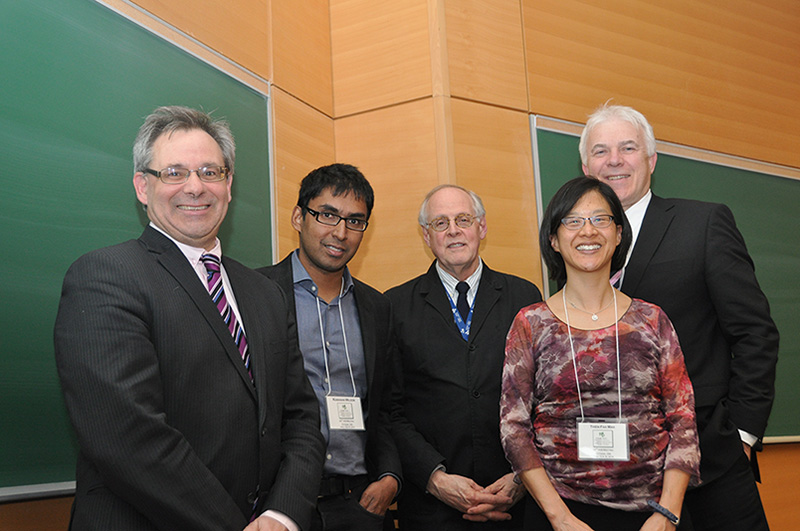 Photo: Marc Ouellette, Kumanan Wilson, Fraser Scott, Thien-Fah Mah, and Anthony Jevnikar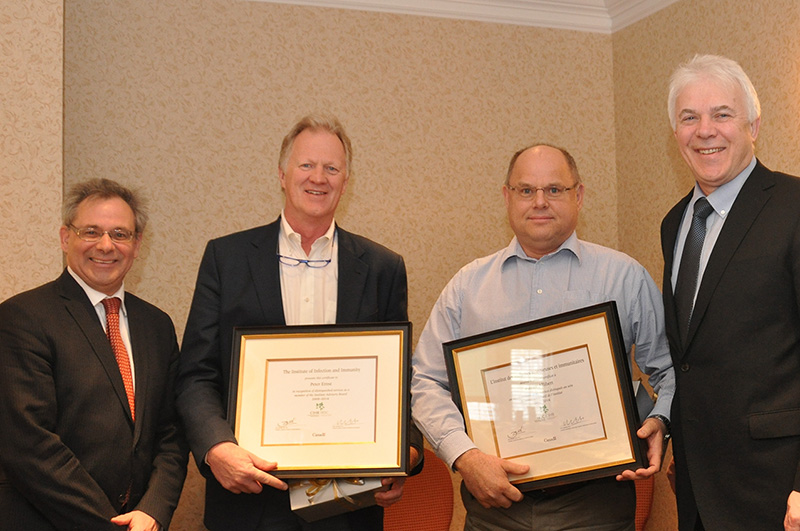 Photo: Marc Ouellette, Peter Ernst, Patrice Allibert, and Anthony Jevnikar
Scientific Meetings of Interest
Funding Opportunities
The Planning Grant and Dissemination Events programs are still available
A new version of the Planning Grant and Dissemination Events program was launched in December 2013, and the first competition held in February 2014. This new version is now a component of the Institute Community Support (ICS) Program.
The ICS Program is designed to allow Institutes and Initiatives the flexibility to tailor programs to meet the needs of their communities and to foster community development. The new planning and dissemination program, under the ICS model, will be launched twice per year with application intakes in February and August.
The next launch will be in June 2014. For more information, please visit the III's ICS program web page.
CQDM/CIHR Collaborative Funding Program in Personalized Medicine to Accelerate Drug Discovery
The "CQDM/CIHR Collaborative Funding Program in Personalized Medicine to Accelerate Drug Discovery" program will facilitate the collaboration between CQDM and CIHR by combining the expertise of both CQDM and its industrial sponsors, and CIHR with its deep insight into Canadian academic scientific expertise. This will build upon the extensive initiatives and multiple projects funded as part of the CIHR Personalized Medicine Signature Initiative. This national program will offer public and private partners the opportunity to work together in order to develop new cutting-edge technologies, computational tools and devices, that will in turn accelerate R&D in the area of personalized medicine.
The program extends to scientific and technical fields directly related to biopharmaceutical R&D and all disciplines that could provide new technologies and devices for biopharmaceutical research as described in the research agenda below. Examples include engineering, nanotechnology, computational science, medical devices, imaging, biosensors, in silico and in vitro screening systems, biostatistics, and improved disease-relevant animal models.
This program is not intended to fund research on the development of specific drugs or biomarker discovery/development projects. Rather, it aims to support the development of innovative technologies, computational tools and devices that can be used to accelerate or facilitate the discovery or the development of new treatments for patients. The aim is to promote creativity, innovation, and multidisciplinary collaborative efforts between academic institutions and private organizations [e.g., SMEs, biotech/contract research organizations (CRO)].
In an effort to bring solutions that will address the most urgent needs of biopharmaceutical research, CQDM and CIHR will fund research projects focused on the invention and development of next-generation technologies, computational tools and devices in the following research areas: cancer; infection and immunity; and neurodegeneration affecting cognition.
Interested candidates have until June 27, 2014 to submit their letter of intent. Please use the following form.
Pathways to Health Equity for Aboriginal Peoples: Implementation Research Team Grants – Component 1
Pathways to Health Equity for Aboriginal Peoples (Pathways) is a CIHR Signature Initiative with an overall goal to develop a better understanding of how to design, implement and scale up population health interventions that will improve First Nations, Inuit and Métis health in four exemplar areas: Suicide Prevention, Diabetes/Obesity, Tuberculosis, and Oral Health.
This Pathways Implementation Research Teams (IRTs) Funding Opportunity will provide funding for Component 1 Implementation Research Teams, which are team development grants to support research teams in building relationships with First Nations, Inuit, and/or Métis communities and identifying promising or effective, multi-faceted population health interventions in any of the 4 exemplar areas that are based in Indigenous practices, and scalable for inclusion in later components.
The funding for this Component is intended to support teams as they work towards preparing an application to Component 2 and/or Component 3.
The total amount available for this funding opportunity is $800,000, enough to fund approximately 8 grants. The maximum amount per grant is $100,000 for up to 18 months.
Note: CIHR will be launching a separate Funding Opportunity for Component 2 applications across the exemplar areas later this summer. A Component 3 Funding Opportunity is planned for a later date.
Details about this funding opportunity can be found on the CIHR website.
Important Dates
Phase 1 – Letter of Intent:
Application deadline: August 5, 2014
Notice of Decision: August 20, 2014
Phase 2 – Full Application:
Application deadline: October 15, 2014
Notice of Decision: January 30, 2015
Funding start date: February 1, 2015
For questions about this funding opportunity, please contact Sarah Viehbeck.
New CNTRP/Astellas Funding Opportunity in Personalized Medicine
The Canadian National Transplant Research Program (CNTRP), supported by CHIR-III, is very pleased to announce the launch of the 2014 CNTRP Astellas Research Innovation Grant Competition. This collaborative effort between Astellas and the CNTRP is intended to help in the creation of new and innovative pilot projects in the transplant field.
Astellas is providing $50,000 to support two peer-reviewed pilot research projects that align with a key strategic research priority for the CNTRP in the area of personalized medicine approaches in transplantation and the health economic benefits. The CNTRP's New Initiatives Committee (NIC) has set guidelines for the competition, and will receive, process, evaluate and rank the applications.
Key Dates
Competition Launch: April 23, 2014
Application Deadline: July 14, 2014
Notification Date: September 16, 2014
Funding Start Date: October 1, 2014
Study update submitted to NIC: Within 18 months of receipt of the Grant
For more information about the application process, including eligibility criteria, please visit the CNTRP website.
Registration to 2014 Foundation Scheme Pilot
Researchers who are eligible to apply to the 2014 Foundation Scheme 1st Live Pilot have until 8 p.m., Eastern Standard Time on June 23, 2014 to complete their registration on ResearchNet . Since this is a new funding opportunity, we encourage you to refer to the registration instructions.
If you experience any technical difficulties with the registration process, please contact CIHR Support by phone at 1-888-603-4178 or 613-954-1968, or via email at support@cihr-irsc.gc.ca.
If you have any other questions please contact Roadmap-Plan.Strategique@cihr-irsc.gc.ca or visit the CIHR website to learn more about the CIHR reforms of open programs and peer review process.
HIV/AIDS Research Initiative
National Consensus Statement on Women, Trans people and Girls and HIV Research
A national consensus statement on Women, Trans people and Girls and HIV Research has been reached during the 2014 Canadian Association for HIV Research annual conference in St. John's Newfoundland on May 1, 2014.
The development of this consensus statement began with an ancillary session focused on women and HIV research at the 2009 Canadian Association of HIV Research and has, since that time, included additional face-to-face and online consultations with HIV/AIDS researchers from all research areas, policy makers, people living with HIV, among others. The purpose of this consensus statement is to help ensure the complex health needs and realities of women, trans people and girls in Canada are addressed in our national efforts to stem the tide of new infections and to ensure our research responses for those affected by and/or living with HIV are, at the very least, gender sensitive. View the complete national consensus statement.
The Canadian Student Health Research Forum
The Canadian Student Health Research Forum is in its 27th year (June 10-12, 2014) and is an important networking event for PhD students in health research. The aim of the Forum is to provide a venue for Canada's most promising research trainees in the health sciences to meet other trainees and senior researchers, gain exposure to research and recognition of their own efforts. Since the beginning of the Forum, CIHR has been one of the principal organizers, providing funding to the Forum and participating in the coordination and judging of the CIHR National Student Research Poster competition. At the Forum Ms. Rushita Bagchi, a PhD student from University of Manitoba, has won the best poster, and will be nominated for the next Lindau Nobel Laureate Meeting. CIHR, through various participating Institutes, gave financial support to the best students in Canada to allow them to attend the Forum. This year III gave travel awards to the following students, to facilitate the presentation of their research data at the forum:
Rylend Mulder
Queen's University
Spleen-Derived Macrophages Are Readily Polarized Into Classically Activated (M1) or Alternatively Activated (M2) States
Chelsea Matisz
University of Calgary
Inoculation with helminth antigen-pulsed dendritic cells suppresses colitis via IL-10 and adaptive immunity
Lauren Davey
Dalhousie University
The Streptococcus gordonii Disulfide Oxidase SdbA Exhibits Activity Using a Single C-Terminal Cysteine of the CXXC Motif
Shane Caldwell
McGill University
A hidden regulatory mechanism is revealed in the structure of clinical antibiotic resistance enzyme APH(2'')-Ia
Shakti Singh
University of Alberta
Protective Immunity Against Vaccinia-HCV in a Mouse Model Depends upon Route and Dose of Immunization
Stephen McCarthy
University of Toronto
c-Src and Pyk2 Regulate Multiple Steps of Early R5 HIV-1 Infection in CD4+ T-Lymphocytes
Dr. Brad Jones to attend 64th Lindau Nobel Laureate Meeting
Dr. Brad Jones will be among 600 aspiring young researchers from almost 80 countries who will spend a week with 38 Nobel Laureates at the 64th Lindau Nobel Laureate Meeting to be held from June 29 to July 4, 2014 in Lindau, Germany.
The CIHR Institute of Infection and Immunity congratulates Dr. Jones for being selected to attend this prestigious meeting focused on exchanging ideas, discuss projects and build international networks.
Dr. Jones completed his Ph.D. in Immunology at the University of Toronto in 2012, where he initiated studies to develop a nano-particle purging strategy for the elimination of the latent reservoir in HIV infected. In 2013, he moved to Harvard Medical School as a Banting Postdoctoral Fellow at the Ragon Institute.
Dr. Jones is currently exploring a strategy of enhancing T-cells via nanotechnology in a way which both enables them to see this hidden virus, and improves their ability to survive and multiply in the body. He is systematically testing these enhanced T-cells in a mouse model of HIV infection with the goal of developing this strategy towards a cure for HIV/AIDS.
Knowledge Translation in Action!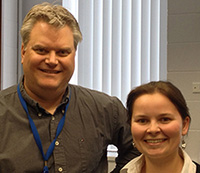 Photo: Dr. Alain Lamarre and Marie-Ève Lebel, INRS-Institut Armand-Frappier
The Institute of Infection and Immunity (III) congratulates CIHR-funded researcher, Dr. Denis Leclerc at Laval University in Québec City, on his project leading to the development of a new generation of adjuvant able to efficiently trigger long lasting innate antiviral immunity via TLR7 and improve response to the trivalent inactivated flu vaccine. This is a natural adjuvant without heavy metals or chemicals that is produced at low cost. The efficacy of this adjuvant was proven in animal models and its capacity to improve the seasonal flu vaccine in humans is currently being tested, with Health Canada's approvals for phase 1/2 clinical trial. Data is expected by spring 2015.
Based on current knowledge, this is the first time a novel adjuvant developed in academia with CIHR funds has reached the clinic. It is also the first time a novel adjuvant will be tested in Canada. This project is a Pan-Canadian effort ,with discovery and development in Quebec City, QC (Centre de Recherche en Infectiologie, Laval University) and fruitful scientific collaboration with Dr. Alain Lamarre in Laval, QC (INRS-Armand Frappier), clinical manufacturing in Mississauga, ON (Therapure), and initiation of the clinical trial in Halifax, NS (Dr. Scott Halperin, Dalhousie University), in partnership with the Pan-Provincial Vaccine Enterprise (PREVENT) based in Saskatoon, SK and FOLIA BIOTECH INC.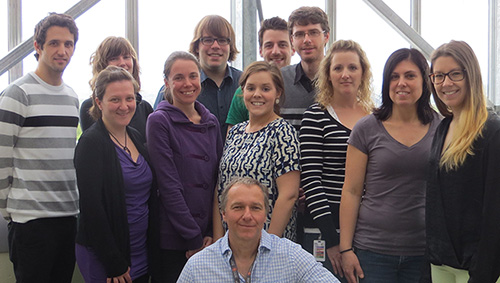 Photo: Dr. Denis Leclerc and his research team at the Université Laval Research Center
A New III Report on Antimicrobial Resistance
Antimicrobial resistance (AMR) is a major health problem and is also a 26752 strategic priority for III. In the past the Institute has invested in research programs on AMR such as the Canadian Research Coalition for Safe Food and Water, the Novel Alternatives to Antibiotics Initiative, the Canada-UK Partnership on Antibiotic Resistance, and more recently the Joint Programming Initiative on Antimicrobial Resistance (JPIAMR).
In February 2013, the Canadian High Commission hosted a second workshop in partnership with CIHR-III and the UK Health Protection Agency (now a part of Public Health England), entitled: "Translational Strategies to Combat Antibiotic Resistance: A Call to Action." This workshop brought together UK and Canadian biomedical and public health researchers with industry representatives to promote information exchange and networking. The workshop also provided an opportunity for the generation of joint strategies for collaborative action in tackling antibiotic resistance.
The full workshop report is available on the Institute website.
Date modified: