Dr. Jacqueline Gahagan
The Writing on the Wall
Dalhousie University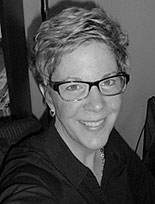 It was spelled out in big letters for Jacqueline Gahagan and everyone else on the street to see. While helping with a research project in Ottawa as an undergraduate, she regularly passed a brick wall outside the GO (Gays of Ottawa) Centre. Spray-painted with homophobic slurs, it served as an obvious message of hatred and misconceptions surrounding HIV. "I had to walk past that very vivid message to get upstairs to the GO Centre to assist with a research study focused on the rights of gays and lesbians. I realized that everybody who had come into that building, gay or not, had to walk past this message of intolerance." Dr. Gahagan took it as a sign that things needed to change. "Although some would argue that you can just walk past that kind of visual imagery and it doesn't really hurt, clearly writing such heinous stuff in public spaces suggested that there was an attitudinal shift that needed to happen."
Trained as a medical sociologist, Dr. Gahagan is a Professor of Health Promotion and Director of the GAHPS (Gender and Health Promotion Studies) Unit at Dalhousie University. She investigates the ways in which determinants of health, such as sex and gender, impact on HIV, STIs and Hepatitis C testing, prevention, and treatment. Dr. Gahagan is also a founding member of the Atlantic Interdisciplinary Research Network (AIRN) aimed at identifying and addressing the social and behavioural aspects of HIV and Hepatitis C across the region.
Today, Dr. Gahagan still challenges gender-based, negative perceptions and social exclusion in her research on the health promotion and HIV prevention needs of women, transgender people and girls. "Negative perceptions, stigma, and discrimination still exist and it really impacts things like getting tested or seeking treatment," explains Dr. Gahagan. This stigma has a very profound and intersecting effect on research directions, policy initiatives and prevention efforts as well. Historically, women have been absent from HIV research and prevention programs. "Clinical research on HIV has historically focused on gay men, and the results are extrapolated to women," says Dr. Gahagan. "My research is trying to challenge those accepted boundaries to ensure HIV research processes work for women and other populations as well."
In 2013, Dr. Gahagan and her colleagues released The National Consensus Statement on Women, Trans people and Girls and HIV Research in Canada following a three year consultation process. The document, available at the Gender and Health Promotion Studies (GAHPS) Unit website, provides recommendations to ensure that future HIV research is more inclusive of and serves the needs of women, trans people and girls. "The gendered nature of HIV risk and prevention has been largely absent from popular representations of HIV and that's a problem," explains Dr. Gahagan. "How do we deal with issues of gender-based stigma, discrimination or violence to make sure those individuals who may be at risk for HIV have all possible benefits of 30 years of HIV research advances?"
And for those who want to catch up on the current research, Dr. Gahagan's edited book "Women and HIV Prevention in Canada: Implications for Research, Policy and Practice" (available from Canadian Scholars' Press, Inc.) outlines the current state of HIV prevention research, policy, and programming efforts with a focus on the issues related to the diverse populations of women in Canada impacted by HIV. This collection of readings includes writings from academics, researchers, practitioners, and community members and gives a broad perspective on issues ranging from women in prison and access to harm reduction, to an overview of the various determinants of health that impact HIV infection, to the HIV prevention and service needs of Aboriginal women, to the state of new HIV prevention technologies, among others topics.
When it comes to her research, it's the community that keeps Dr. Gahagan inspired: "I find there is such energy, creativity and willingness to keep at it," she explains. "With all the ebb and flow of HIV treatment advances, there are advocates and affected communities that continue to hold researchers' feet to the fire to make sure they do something about this pressing health issue. It's totally motivating to see how affected communities are mobilizing with the research community for sustainable change."
The Canadian Association for HIV Research (CAHR), the CIHR HIV/AIDS Research Initiative, the Canadian Foundation for AIDS Research (CANFAR), the CIHR Canadian HIV Trials Network (CTN) and the Canadian HIV Vaccine Initiative (CHVI) Research and Development Alliance Coordinating Office (ACO), would like to congratulate Dr. Gahagan on her significant contributions to our understanding of the gendered nature of the HIV epidemic. Her work is part of a larger Canadian research effort that is making a difference in the lives of those affected by HIV in Canada and around the world.
Date modified: