IG Researcher profile: Dr. Nada Jabado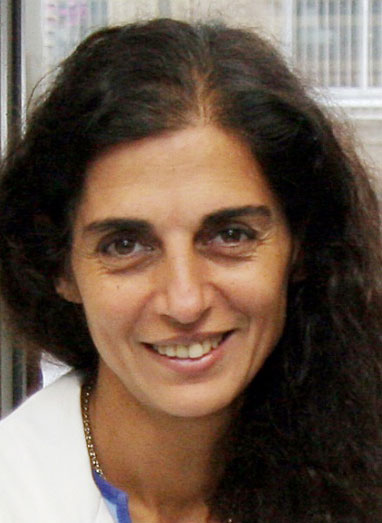 Project title
Biomarkers for Pediatric Glioblastoma through Genomics and Epigenomics. The International CHildhood Astrocytoma INtegrated Genomic and Epigenomic (ICHANGE) Consortium.
Who
Nada Jabado, MD, PhD, is an Associate Professor in the Department of Pediatrics and an associate member of the departments of Human Genetics and Experimental Medicine. As a pediatric hemato-oncologist at the Montreal Children's Hospital of the McGill University Health Centre, Dr. Jabado serves as the primary physician for children with brain tumours, the leading cause of cancer-related mortality and morbidity in children.
Issue
High-grade Astrocytomas (HGA) is a rare but often fatal disease, both in adults and in children. However, although adult and pediatric HGAs are histologically similar, pediatric patients with HGA have a distinct molecular signature and do not respond to therapy similar to adults with HGA. Pediatric patients, especially those with somatic (acquired) brain mutations in histone 3.3 (so-called H27M and G34V/R) identified by Dr. Jabado's group, rapidly fail existing therapies. Dr Jabado and colleagues are working on a robust blood based biomarker for these somatic brain mutations and are investigating the pathways involved in HGA to find more specific and effective drug targets. Furthermore, their research closely mixes with families with affected children, bioethicists and health economists.
Approach
Since pediatric HGA is relatively rare, and thus samples to study are difficult to obtain, Dr Jabado created the International CHildhood Astrocytoma INtegrated Genomic and Epigenomic (ICHANGE) Consortium. This allows access to a unique set of resources to investigate astrocytomas in children, including databases, samples, collaborations and access to technology including ~900 annotated glioma tissue samples representative of all grades and ages from 15 participating countries. This access to large amount of samples allows Dr. Jabado's team and her collaborators from McGill to identify pathways involved with and driving the development of these pediatric tumours. The use of the latest technology and extensive results allows the study and evaluation of new molecular mechanism driving pediatric glioblastoma multiforme GBM. These findings put Dr. Jabado and her team at the forefront of significant breakthroughs for these devastating brain tumors.
Impact
At present, current therapies for pediatric HGA have little impact on survival and are not cost-effective. Our work will improve on existing designs for personalized therapeutics/biomarkers using a well characterized gene or gene subsets and will change the management and outcome of this deadly cancer. In addition, further molecular characterization of this cancer will allow us to identify molecular targets that could be used to develop new drugs to treat this diseases. Our GE3LS study on parent desire for return of information and parental and professional discrete choice will provide us with the moral and ethical grounds to take our genomics data forward in the next generation of clinical trials. This will have a significant impact on affected children, their parents, and various health professionals.
---
Project Title
Genomics research identifies childhood cancer genes
With the introduction of next-generation sequencing techniques, research now has the ability to identify disease causing genes. In fact, Dr. Nada Jabado and her team have been able to determine which mutations are driving the growth and spread of disease. Focusing on pediatric cancers, they have uncovered genetic abnormalities that cause tumor cells to grow, or even, become resistant to treatment in pediatric glioblastoma, a deadly brain tumour. This discovery has the potential to lead to more tailored treatment for this cancer. Using these technologies, we will soon be able to better understand the origin of several diseases including other types of cancer, and the reason(s) for their progression or resistance to therapies. Vast amounts of clinical, biological and sequencing data are now being generated by an expanding number of research efforts on a scale that we could only dream of a few years ago. These endeavors are expected to bring a major shift in clinical practice in terms of diagnosis and understanding of diseases, ultimately enabling personalized medicine based on one's genome and/or the genome of the tumour.
Date modified: