Dr. Harold Atkins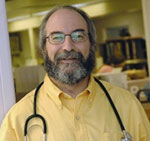 Affiliation
Physician, Blood and Marrow Transplant Program, The Ottawa Hospital
Committee membership
Stem Cell Oversight Committee
Biography
Harold Atkins MD currently is an attending physician of the Ottawa Hospital Blood and Marrow Transplant Program, an Associate Professor of Medicine at the University of Ottawa, a scientist in the Center for Innovative Cancer Research and the medical director of the Regenerative Medicine Program at the Ottawa Hospital Research Institute.
He received his Bachelor of Medical Science degree and Medical Degree from the University of Ottawa. He spent a year in a rotating internship at the Victoria General Hospital in Victoria BC. This was followed by specialty training in Internal Medicine at the University of Ottawa. Clinical and research fellowships in Hematology, Stem Cell Transplantation and Experimental Hematology followed at the University of Washington and at the Ontario Cancer Institute.
Dr. Atkins has received numerous grants throughout his research career and has published more than 65 peer-reviewed, invited or review papers. His clinical practice includes directing the multiple myeloma clinics within the Malignant Hematology Program at the Ottawa Hospital.
He specializes in the management of patients requiring stem cell transplantation and he has spearheaded the use of stem cell transplantation for immune repair to treat patients with severe autoimmune diseases, particularly Multiple Sclerosis. He has also developed clinical trials exploring the role of dose escalated radiation therapy to treat refractory blood cancers. His laboratory research includes a longstanding and fruitful collaboration with Dr. John Bell developing oncolytic viruses particularly for the treatment of hematological cancers as personalized cancer cell vaccines.
Date modified: