III Newsletter – February 2014
Message From the Scientific Director, Dr. Marc Ouellette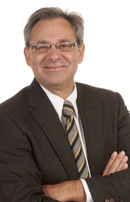 It is a pleasure to reach you via this newsletter. As usual the Institute has recently been busy on a number of fronts. Our efforts, in the area of antimicrobial resistance, have culminated into a new exciting international funding opportunity (see page 4). We held a number of meetings to build a business case for a new Signature Initiative on the role of Environment and Health. We have also initiated discussions with our board to have an upcoming funding opportunity on human immunology.
One recent major funding investment that the Institute was involved with was for the Canadian Microbiome Initiative. Teams are at the mid-way point and, as promised, we held a networking meeting of the seven funded teams with additional Microbiome researchers and stakeholders (p. 3).
On the HIV file, the results of the HIV cure have recently been made available (p. 4 and 5). A consultation workshop has taken place for an upcoming funding opportunity under the Canadian HIV Vaccine Initiative on mucosal immunity for HIV vaccine. In partnership with CAHR, we also held a meeting for trainees and new investigators (p. 3).
We receive, on a regular basis, testimonials from funded investigators on how the funds were helpful in having an impact. Examples are included on page 6 and we would be pleased to share your outcomes with the III community.
Finally, I would like to highlight the departure of Dr. Judith Bray from CIHR on February 7th, 2014. Judith has been the Ottawa based Assistant Director for the Institute since the inception of CIHR. In the last 13 years Judith has launched many funding opportunities – the first one was Safe Food and Water in 2002 and the last one was the JPIAMR partnerships. Her hard and competent work and high spirit will be missed. We wish Judith the best of luck in her new endeavors.
Marc Ouellette
The Bhagirath Singh Early Career Award in Infection and Immunity 2013 Winner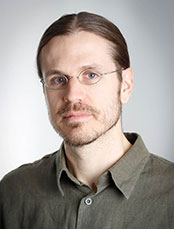 Photo: Dr. Irah King
Assistant Professor
Dept. of Microbiology and Immunology
McGill University
It is with great pleasure we announce the winner of the Bhagirath Singh Early Career Award in Infection and Immunity for 2013, Dr. Irah King from McGill University. His project "T follicular helper cell differentiation and function in immunity and infection" was highly rated in the March 2013 open competition, and proved to be the highest among new investigators in the fields of infection and immunity.
Dr. King received his education in the United States in diverse scientific fields such as psychology (B.A.), physical therapy (MPT), neuroscience (PhD), and immunology (PDF). He is Assistant Professor of the Department of Microbio­logy and Immunology at McGill University since 2012. Dr. King is also a Canada Research Chair in Humoral Immunity since 2013. He has received several honors since 1998 including a distinction magna cum laude in 2000 from Ohio University.
The research conducted by Dr. King is very exciting and seeks to better understand the immune system. His work aims at identifying the cellular and molecular requirements for Tfh and Th2 cell differen­tiation and persistence to determine how T-B cell interactions generate protective humoral immunity to intestinal infection and to understand the impact of the microbiota on Type 2-driven humoral immune responses within the gastrointestinal tract. We wish him good luck in all of his endeavors and a productive scientific career.
Scientific Meetings of Interest
New HIV Researcher Workshop
On Friday February 7th, the Canadian Association for HIV Research (CAHR), in partnership with CIHR-III and the Canadian HIV Vaccine Initiative (CHVI) Research and Development Alliance Coordinating Office (ACO), organized a series of workshops for future HIV researchers at the Château Frontenac in Quebec City.
The goal of this workshop, as presided over by Dr. Mathieu Götte from the University of McGill and Dr. Michel Tremblay from Laval University, was to provide practical advice to students, trainees and other future HIV researchers.
The workshop was well attended with 47 participants which included several stakeholders from academic and pharmaceutical research. The workshop was a great success.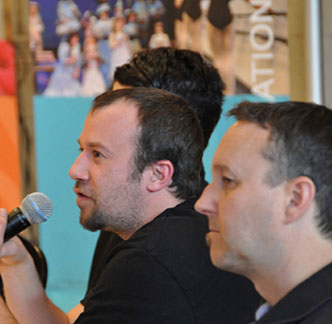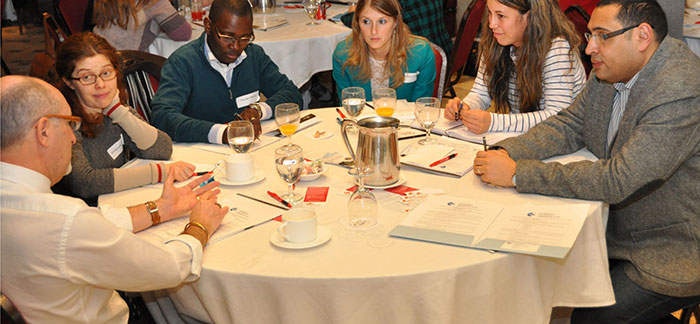 The Canadian Microbiome Workshop 2014: From Research to Applications
III and several partners held the Canadian Microbiome Workshop 2014: From Research to Applications in Vancouver, last February 12-14. The Institute of Nutrition, Metabolism and Diabetes (INMD) joined III and Genome BC in the organization of the workshop which aimed to keep Canada as an international front runner in the field of microbiome research. The workshop gathered approximately 100 participants from diverse backgrounds and was a big success. Several other CIHR Institutes were presents and contributed to this event: IA, IAPH, ICR, ICRH, IGH, IG, IHDCYH, IMHA, INMHA, and IPPH. The workshop was also meant to be a meeting place where by partnerships and future collaborative relationships were fostered between academia and the private sector, and thus, several biopharmaceutical companies were also present: GSK, AstraZeneca, Johnson & Johnson, Pfizer, and Second Genome. Representatives from government agencies were also part of the workshop: CDRD, Genome Canada, Genome Alberta, Génome Québec, Health Canada, NIH, as well as the European program MetaHit. III thanks the participants for this great success.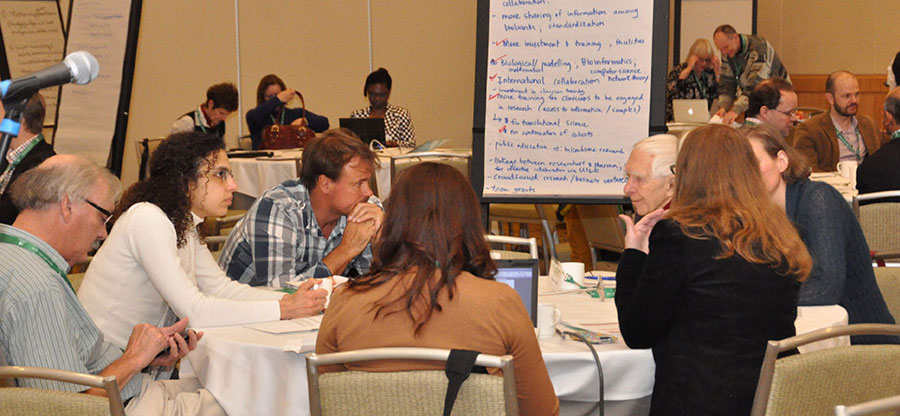 Funding Opportunities
Joint programming Initiative on Antimicrobial Resistance (JPIAMR)
Application: 2014-05-15
Notice of decision: 2014-07-01
Funding begins; 2014-06-01
(see below for more information)

Catalyst Grant - HIV/AIDS Community-Based Research (2014)
Application: 2014-04-14
Notice of decision: 2014-08-25
Funding begins: 2014-10-01
Joint Programming Initiative Antimicrobial Resistance (JPIAMR)
The CIHR Institute of Infection and Immunity has partnered with 13 European states to launch the "InnovaResistance: Innovative approaches to address antibacterial resistance" joint programming initiative.
The dearth of new bactericidal or bacteriostatic drugs entering the clinic and the emergence of infections due to multi-antibiotic resistant bacteria requires international collaboration supported by substantial financial investment. New drugs and/or therapeutic approaches are urgently needed to control bacterial infections and safeguard the health of populations.
The primary aim of this joint call is to combine the resources and research strengths of multiple countries in order to better exploit novel approaches and mechanisms to overcome antibiotic resistance.
A minimum of three countries have to be represented among the 3-6 partners of each proposal.
There is a two-stage review process with an initial open call for pre-proposals due March 14, 2014, and a subsequent call by invitation for full proposals due July 21, 2014. Final funding decisions will be communicated in the fall of 2014.
For more detailed information about participating countries, detailed timelines and application instructions please consult the JPIAMR website or the CIHR website.
HIV/AIDS Research Initiative
The HIV/AIDS Research Initiative wishes to congratulate the many successful applicants in the numerous recent HIV/AIDS competitions:
CTN Renewal
It is a great pleasure to announce the successful renewal of the CIHR Clinical Trials Network. This represents a significant investment for the CIHR HIV/AIDS Research Initiative in the amount of $22,750,000. Congratulations, on your success, to the principal investigators, Aslam Anis, Marina Klein and Sharon Walmsley as well as the many co-investigators and individuals associated with the CIHR Clinical Trials Network.
Team Grant: HIV Cure Research
Congratulations to Dr. Éric Cohen (IRCM) and Dr. Hugo Soudeyns (Hôpital Ste-Justine) for their successful project proposals ($10,000,000 total) to the Canadian Initiative for HIV Cure Research. Both projects are focused on unique aspects of cure research and will make important contributions to the global effort in finding a cure for HIV.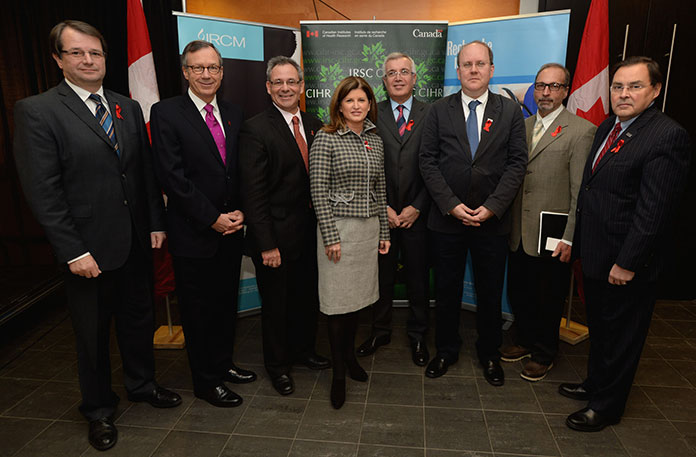 Photo: Dr. Tarik Möröy, Mr. Chris Bunting, Dr. Marc Ouellette, Minister Ambrose, Dr. Éric Cohen, Dr. Hugo Soudeyns, Mr. Robert Reinhard, Dr. Guy Breton
Congratulations to funding recipients
III would like to congratulate the following researchers on their success in securing funding from III Priority Announcements:
Bridge Funding (Fall 2013)
Nathalie Grandvaux, Centre hospitalier de l'Université de Montréal (CHUM), Redox regulation of the innate antiviral response in airway epithelial cells: regulation and function of DUOX2.
Dissemination Events (Fall 2013)
Patricia M Spittal, University of British Columbia, Northern Uganda Leadership Forum: Acknowledging the Impact of HIV and Trauma in Post Conflict Northern Uganda.
Panel on Research Ethics
TCPS 2 - New Materials for Consultation Participants
In September 2013, the Panel on Research Ethics released proposed revisions to the 2nd edition of the Tri-Council Policy Statement: Ethical Conduct for Research Involving Humans (TCPS 2) for public comment. The Panel has produced new materials to facilitate this consultation process. A webinar for participant consultation as well as additional proposed changes to TCPS 2 Article 3.7 are now available online.
HPTA Regulatory Impact Assessement Process
The establishment of new regulations under the 2009 Human Pathogens and Toxins Act (HPTA) will enhance the existing biosafety and security regime in place for individuals and facilities working with human pathogens and toxins. The regulatory impact analysis process includes consultation input and feedback provided, via a consultation with stakeholders, as well as a formal cost-benefit analysis. The early identification of potential cost drivers and implementation challenges is encouraged to help PHAC develop a regulatory framework that is risk-based, cost-effective, and results in minimal impact to regulated parties.
III Knowledge translation in Action!
Dr. W. Ford Doolittle awarded the Gerhard Herzberg Canada Award
The CIHR-III would like to congratulate Dr. W. Ford Doolittle, Professor Emeritus of Biochemistry and Microbiology at Dalhousie University in Nova Scotia, upon being awarded the Gerhard Herzberg Canada Gold Medal for Science and Engineering. The award is given annually by the Natural Sciences and Engineering Research Council of Canada (NSERC) and is one of the most prestigious scientific awards in Canada. Dr. Doolittle was recently funded by III for a research project on the microbiome.
CIHR-funded network led by Dr. Danuta Skowronski recognized in a publication co-authored by WHO
Dr Danuta Skowronski and her team were re­cognized for their work regarding the increased pandemic H1N1 risk observed in association with seasonal vaccine in a paper co-authored by the World Health Organization. This scientific article mentioned that Canada should be lauded for its timely investigations into the unexpected effects of seasonal vaccines on the pandemic. The work of Dr Skowronski and her team was supported by a grant of the PPSRI initiative.
Vaccine development against tuberculosis offers new hopes for the global fight against TB
Dr. Zhou Xing and Dr. Fiona Smaill both professors at the Department of Pathology & molecular Medicine at McMaster University, and members of the Michael G. Degroote Institute for Infectious Disease Research published last October a study in Science Translational Medicine on phase 1 of a clinical trial for a new vaccine against tuberculosis. This represents one of the few early TB vaccine evaluation trials that was implemented in Canada in recent years.
The development of the McMaster vaccine was supported by the Canadian Institutes of Health Research, the Canadian Foundation for Innovation, the World Health Organization, the Ontario Ministry of Research and Innovation, McMaster University, and the Michael G. DeGroote Institute for Infectious Disease Research.
We would like to hear from you!
Are you a CIHR-funded investigator doing innovative infection and immunity research? Have you recently been published in a peer-reviewed journal? We want to know more about it!
Drop us few lines on your great outcomes for a chance to be featured in the III newsletter or website! Forward the information to serge.desnoyers@crchul.ulaval.ca.
Date modified: