Promoting health equity by addressing the needs of health workers
A collaborative, international research program
Institution
University of British Columbia
Nominated Principal Investigator
Program team

Team members

University of British Columbia

Elizabeth Bryce
Mark FitzGerald
David Moore
Jane Buxton
Carlo Marra

University of the Free State

Michelle Engelbrecht
Kerry Uebel

National Health Laboratory Service

University of Andian Simon Bolivar
Research objectives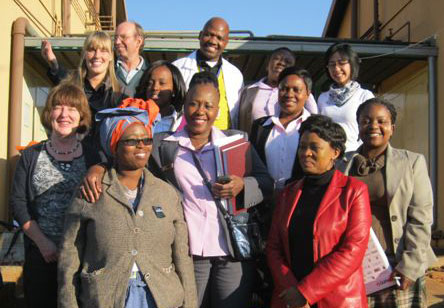 Some of the members of the research team July 3, 2013 at Kalafong Hospital in Pretoria, South Africa
To examine the impact of global economic factors, both on working conditions and implementation of relevant national policies;
To examine the effectiveness of tuberculosis prevention and treatment programs;
To design and evaluate interventions to decrease stigma with regard to HIV and tuberculosis;
To examine the role of training on capacity building for reducing tuberculosis and improving the use of HIV services among health workers;
To evaluate the use, perceived usefulness and impact of a health information system to improve the health of health workers;
To develop a methodology to cost guideline implementation; and
To apply some of the methods and techniques developed to implementing and evaluating infection control and occupational health programs in Ecuador.
Approach
collaborative, interdisciplinary and international with numerous trainees
Project update: How can we better prevent the transmission of TB to healthcare workers in developing countries?
In resource-limited settings, healthcare workers are at increased risk of contracting tuberculosis (TB). The bacteria that cause TB float in the air for long periods of time, so healthcare workers are supposed to wear protective facial equipment (respirators) when they care for a patient suspected of having TB. The South African-Canadian team led by Drs. Annalee Yassi, Elizabeth Bryce, Muzimkhuhu Zungu and colleagues based at the National Institute of Occupational Health (NIOH), University of Free State, University of Cape Town and health department, have been conducting research into the magnitude of the problem and ways to address it.
One project, for example, was carried out in a clinic for new and existing medical outpatients of a regional public hospital in South Africa that treats an average of 170 patients a day. Throughout the study, which was led by Tanusha Singh and NIOH colleagues  in the summer of 2013, participating staff (medical doctors, nurses, and phlebotomists) were requested to maintain a diary during their regular working hours at the clinic to document both their perceived risk of TB exposure and their compliance with the use of personal protective equipment. Air samples, which were collected from personal air samplers and from several areas of the clinic (both patient and administrative) over a 4-day period, were subsequently sent for polymerase chain reaction (PCR) analysis.
There were 49 air samples taken in total, and the bacteria were detected in 11 of them (22.4%). Five of the personal samplers from 10 physicians (50%) and three of those from the 13 nurses (23%) were positive. Most of the healthcare workers (87.5%) with the positive air sample results were not wearing a respirator while in contact with coughing patients.
The air sampling demonstrated the risk of TB exposure. The study also highlighted the importance of engineering controls, particularly in terms of assessing ventilation and airflow in clinic settings, as well as establishing a clear understanding of the areas in the facility where there could be admixing of air (i.e., where contaminated air could travel to otherwise uncontaminated areas) so that appropriate measures could be taken. Overall, the findings provide an impetus for strengthening infection prevention and control measures for TB among healthcare workers and patients alike. A program has now been launched in this hospital to decrease the risk of TB. Lessons learned from the design, implementation and evaluation of the program will no doubt be scaled up across the country.
Meanwhile, a randomized controlled trial conducted by an overlapping sub-team funded by this programmatic grant in 28 hospitals in the Free State Province also highlighted the importance of having user-friendly data systems in order to strengthen the provision and monitoring of HIV and TB prevention and treatment. In addition, the project highlighted the importance of healthcare systems providing confidential, no cost, no wait time screening for TB for staff. New insights into the value of North-South-South partnerships to address such issues were also contributed. The team is now further testing innovative approaches to preventing TB transmission in healthcare, extending to Zimbabwe and Mozambique in addition to elsewhere in South Africa.
Associated links
Selected publications
Matuka O, Singh TS, Bryce E, Yassi A, Kgasha O, Zungu M, Kyaw K, Malotle M, Renton K, O'Hara L. Pilot study to detect airborne Mycobacterium tuberculosis exposure in a South African public healthcare facility outpatient clinic. J. Hosp. Infect. 2015 Mar; 89(3):192-6. doi: 10.1016/j.jhin.2014.11.013. Epub 2014 Dec 27.
Engelbrecht MC, Yassi A, Spiegel JM, Janse van Rensburg A, O'Hara LM, Bryce EA, Nophale LE, Rau A. Tuberculosis and blood-borne infectious diseases: Workplace conditions and practices of healthcare workers at three public hospitals in the Free State. Southern African Journal of Epidemiology and Infection. May 2015; 30(1):23-30.
Yassi A, O'Hara LM, Engelbrecht MC, Uebel K, Nophale LE, Bryce EA, Buxton JA, Siegel J, Spiegel JM.  Considerations and Dilemmas in Preparing a Randomized Population Health Intervention Trial: Lessons from a South African-Canadian Partnership to Improve HIV and Tuberculosis Prevention and Care for Health Workers. Global Health Action. 2014 7; 23594.
Yassi A, Zungu M, Kistnasamy B, Spiegel JM, Lockhart K, Jones D, Nophale L, O'Hara LM, Bryce EA, Darwin L. Protecting health workers from infectious disease transmission: An exploration of a Canadian-South African partnership of partnerships. Globalization and Health. In press February 2016.
O'Hara N, Marra C, Roy L, Yassi A, Lynd L, FitzGerald M, Spiegel JM. Healthcare worker preferences for active tuberculosis case finding programs in South Africa: A best-worst scaling choice experiment. PLoS One. July 21, 2015.
Date modified: