Community-based research and interventions for health equity in Burkina Faso
Institution
Centre hospitalier de l'Université de Montréal (CHUM)
Nominated Principal Investigator
Program team

Team members

Burkina Faso

Seni Kouanda
Abel Bicaba
Aude Nikiema

Canada

Slim Haddad
Pierre Fournier
Christian Dagenais
François Chiocchio

France

Research coordinators

Canada
Burkina Faso

Antarou Ly
Telesphore Somè
Research objectives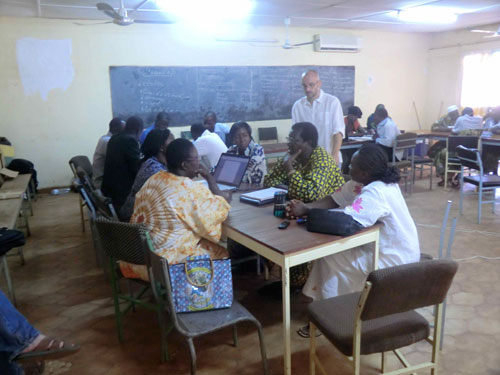 The goal of this research program is to evaluate the processes, effectiveness and impact of promising community-based interventions to improve health equity in one of the poorest countries in the world: Burkina Faso. Based on a participatory planning process, the three objectives of this program are as follows:
to evaluate the community-based interventions currently under way in Burkina Faso (malaria-control measures, exemption from health-care user fees, health-care mutuals and national health insurance) in order to obtain evidence regarding health equity;
to implement and evaluate a knowledge-brokering intervention;
to formulate, implement and evaluate, using a participatory approach, experiments with best intervention, ethical, research and knowledge translation practices for promoting health equity.
Approach
This program has been designed according to the principles that guide its content: a process that is evidence-based but that also considers it essential for all of the stakeholders to participate and for their knowledge to be taken into account. As we have already experienced in Burkina Faso and other countries, to increase the chances of translating the knowledge that a research program produces, it is essential to involve all of the program stakeholders from the very start of the design process.
The implementation of the program is also participatory and adapted to the constantly changing national and local context. Hence the design of the research initiatives must be adjusted continually to address the new interventions and research questions to which they give rise.
Project update: Can scientific knowledge brokering improve health practices and decision-making in Burkina Faso?
There is an acknowledged gap between the production of scientific evidence and the use of it in health settings. This gap exists for a number of reasons, but a number of strategies have also emerged to bring the results of solid health research into discussions about health policies, practices, and decision making. In low- and middle-income countries (LMICs), however, this gap can be harder to address. Limited access to scientific databases, language barriers, and a lack of resources to consolidate evidence can impact whether and how research will be used to inform decisions.
In Burkina Faso, one of the poorest countries in the world, there is a pressing need for community-based interventions to improve health equity—but there is also a need to ensure that they are effective and are taking advantage of research results. To this end, Dr. Valéry Ridde, in collaboration with the RENARD team, have created a "knowledge brokering" program to support decision makers in the country's Kaya District. This program capitalizes on personal contact with decision makers and health stakeholders through the role of a broker and has the potential to lead to better use of research evidence in health practice, promotion, and service delivery. It is also one of the first interventions to test the use of a knowledge brokering approach in Africa.
The knowledge broker works with local stakeholders to gather research evidence that is relevant to their needs and priorities. For example, when some participants identified the impact of user fee exemptions for healthcare as an area of interest, the broker prepared a short synthesis of the research that had already been done.
Dr. Ridde and his team are also evaluating a number of community-based interventions that are currently underway in Burkina Faso—including malaria, dengue fever,  road trauma, and access to care for the homeless—and the knowledge broker will help the team in making the results of those studies accessible for decision makers and other stakeholders.Assessments of the deliberative process of sharing results and workshops will be conducted.
To date, a significant amount of material has been produced by the knowledge broker to respond to stakeholder concerns, and the results of the program from the first two years have been extremely encouraging. Policy makers have indicated that they find the material useful and are starting to use it in decision-making, and representatives from non-government organizations have also noted how the knowledge transferred by the broker has had a positive effect on health promotion activities. This approach could serve as a model to support the use of evidence in policy in other resource constrained settings.

Associated links
Selected publications
Date modified: