Examining the impact of social policies on health equity
How policies designed to reduce poverty and gender inequality affect morbidity and mortality in children and women
Institution
Nominated Principal Investigator
Program team

Co-investigators

Timothy Brewer
Cesar Carcamo
Alison Earle
John Frank
Patricia Garcia
Eduardo Gotuzzo
Sam Harper
Jody Heymann
Jay S. Kaufman
Shailen Nandy
Arnab Mukherji
Gilles Paradis
Linda Richter
Erin Strumpf
Hema Swaminathan

Fellows

Alissa Koski
Amm Quamruzzaman
Benson Thomas
Belinda Maswikwa
José E. Pérez-Lu
Drissa Sia
Mohammad Hajizadeh

Staff

Efe Atabay
Lauren Maxwell
José Mauricio Mendoza
Gonzalo Moreno
Jennifer Proudfoot
Ilona Vincent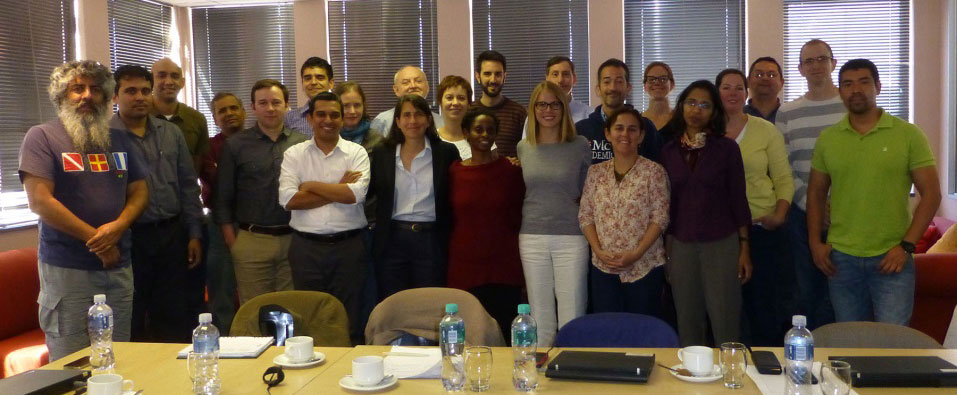 Research team, trainees, and knowledge mobilization partners at the annual MACHEquity meeting; September 2013, Cape Town, South Africa
Research objective
The overall objective of the Maternal and Child Health Equity Project (MACHEquity) is to facilitate a series of conceptually related research projects examining how policies aimed at reducing poverty, income and gender inequality in high- and low-income countries impact the burden of disease among children and women under 50, including infant and maternal morbidity and mortality, HIV/AIDS, and tuberculosis.
Approach
The research team will:
pull together longitudinal global policy data on poverty, income and gender equity relevant to population health outcomes so that their impact can be rigorously addressed;
harmonize survey data across over 70 countries so that health and health equity outcomes can be systematically studied for children and women;
bring together researchers with substantial expertise in public policy, health and health equity, and the cutting-edge methods needed to analyze their relationship;
bring researchers together with knowledge users from Canadian and international organizations and intergovernmental and non-governmental organizations to ensure that research results have an impact on the ground; and
create an interdisciplinary training program so that research in the field can be sustained and further developed in the future.
Project Update: Does maternity leave affect infant health?
Paid leave for parents is a standard benefit in close to 190 countries. Although devised as a labour policy, paid parental leave may also impact maternal and child health. Research on the health effects of this leave, however, is sparse, and has focused almost exclusively on select high-income countries. There has been little to no research on how maternity leave can improve population health in low- and middle-income countries (LMICs), which display far greater proportions of infant illness and death.
Led by Dr. Arijit Nandi, and supported by the programmatic CIHR grant Examining the Impacts of Social Policy on Health Equity, the Maternal and Child Health Equity research program (MACHEquity) has performed unprecedented research on the health effects of maternity leave in LMICs. Through rigorous quasi-experimental studies of the effects of paid maternity leave policies on infant and child health indicators across 20 LMICs from all geographic regions, Dr. Nandi's team has shown that increases in paid maternity leave led to uptake of essential vaccines and substantial decreases in infant death.
The MACHEquity team collected historical data on national maternity leave policies for the 121 LMICs surveyed by the Demographic and Health Surveys and the Multiple Indicator Cluster Survey. For each year since 1995, the dataset captures whether paid leave is available for mothers to care for their infants, its length, and the rate at which wages are replaced.
In order to complete this analysis, the MACHEquity team linked these data to information on approximately 300,000 live births from 20 LMICs. Their research found that expansions in paid maternity leave led to substantial increases in the coverage of the diphtheria, tetanus and pertussis vaccine (DTP3). These findings have been published in Social Science and Medicine. They also found that each extra month of paid leave prevented almost 8 infant deaths per 1,000 live births, decreasing mortality by 13%. These results were recently presented at a UNICEF symposium attended by leaders from the International Labour Organization and the World Health Organization that focused on addressing contemporary challenges to the implementation of maternity protection.
With CIHR's support, MACHEquity is producing the first research to systematically measure the health effects of national social policies. This work has the potential to offer unprecedented contributions to the field of social determinants of health, particularly focusing on whether national policies can have measurable, long-term effects on the health outcomes of individuals. Furthermore, both the approach used by MACHEquity and the unique policy data it has created will be useful for future investigations into the relations between national policies and individual outcomes in other fields of study, such as economics or sociology. The MACHEquity datasets have been featured in No Ceilings, a campaign and accompanying report by the Clinton Foundation and the Gates Foundation to inspire and advance the full participation of girls and women around the world.
The MACHEquity team has recently released a tool on their website that provides free access to comparative data on social policies around the world, in the areas of maternity leave, minimum wage, breastfeeding breaks at work, and child marriage; more policy data will be posted as it becomes available. Visit the MACHEquity site for more information and to use the data visualization and download tools.
Associated links
Date modified: