Equity-Oriented Primary Health Care Interventions for Marginalized Populations
Addressing Structural Inequities and Structural Violence
Institutions
University of British Columbia
Western University
University of Northern British Columbia
University of Victoria
Co-Principal Investigators
Annette J. Browne
Marilyn Ford-Gilboe
Colleen Varcoe
Nadine Wathen
Program team

Co-investigators

Julie George
Carol Herbert
Josée Lavoie
Marjorie MacDonald
Bernadette (Bernie) Pauly
David Tu
Sabrina Wong

Practice consultant

Knowledge users

Olive Godwin
Beth Jackson
Murry Krause
Doreen Littlejohn
Leslie Varley
Cheryl Ward
Elizabeth Whynot

Primary health care partners

Patricia Belda
Kathy Bresett
Margaret Coyle
Anne Drost
Pierre Ducharme
Myrna Fisk
Irene Haigh-Gidora
Megan Hunter
Colleen Kennelly
Wendy McKay
Tatiana Pyper
Morgan Price
Mary Stover

Post-Doctoral Fellows and EQUIP trainees

Alison Gerlach
Jen MacGregor
Meaghan Thumath
Bruce Wallace

Full time research staff

Joanne Hammerton
Phoebe Long
Alison Gerlach
Joanne Parker
Lena Rinquist-McCoy
Research objectives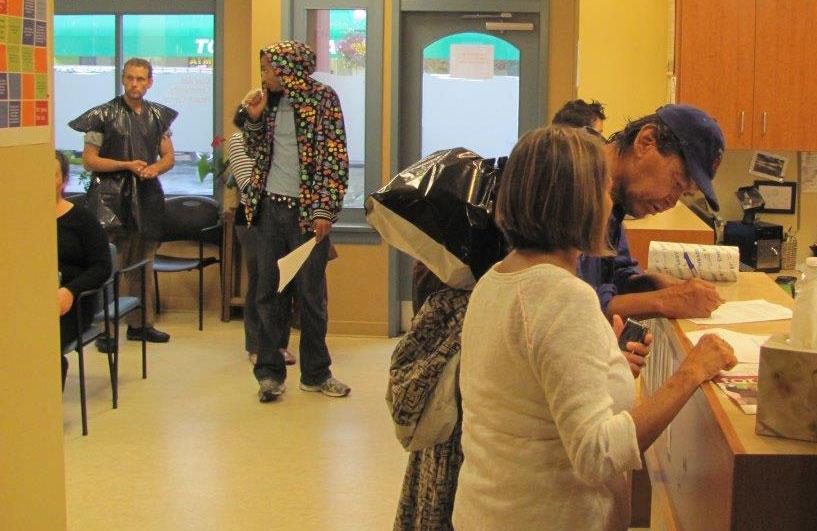 Checking in for health care
The primary health care (PHC) sector is increasingly relevant as a site for population health interventions, particularly in relation to vulnerable populations, where it is expected that the greatest gains can be achieved. We are particularly concerned about the persistent health and access inequities affecting populations who are most vulnerable to the effects of structural inequities and structural violence.
Our overarching goal is to engage in a program of research involving interdisciplinary collaborations between researchers, knowledge-users, and agencies in the PHC and public health sectors in British Columbia and Ontario to contribute new knowledge about innovative health interventions to mitigate the effects of structural inequities and structural violence for marginalized populations, and the policy environments needed to support such programming.
Approach
We are building on and expanding interdisciplinary research capacity with a view to promoting health equity for marginalized populations through innovative equity-oriented interventions that can be used by health care organizations.
Three conceptually interrelated and interdependent studies focused on:
identification, refinement and operationalization of equity-sensitive PHC indicators relevant for marginalized populations (Study A)
the effectiveness of an innovative, complex, multi-component intervention that explicitly aims to promote health equity for marginalized populations at four diverse PHC agencies (in BC and Ontario), using a participatory, mixed methods, multiple case study design (Study B)
an analysis of policy and funding contexts using a social justice and equity framework to determine the gaps to be addressed, and opportunities to foster equity-oriented interventions in the PHC context (Study C).
Our approach to effective knowledge translation and exchange involves engagement from the outset with policy-makers, clinical leaders in PHC, primary care and public health, health care providers, and patients.
Project Update: Integrating cultural safety to improve the delivery of equity-oriented care in primary health care settings
All Canadians deserve primary health care (PHC) that meets their needs. Unfortunately, many continue to face challenges to getting care, particularly when they experience stigma, racism and other forms of discrimination. When people encounter practices and policies that make them feel judged or disrespected, they may avoid accessing services in the future. This can contribute to erosion of their health over time, compounding the significant health effects of structural inequities.
The EQUIP team is working to make health services more responsive, relevant and effective for those who have experienced discrimination, violence and trauma.  The EQUIP intervention was designed to enhance the capacity of PHC organizations to provide equity-oriented care using a combination of staff education and facilitation to support practice and policy changes. Key intervention concepts include health equity, cultural safety, and the impacts of various kinds of trauma, including structural violence, on people's health and access to care. 
The concept of cultural safety, originally developed in New Zealand by Maori nurse-leaders, is intended to shift health care practices to explicitly address inequitable power relations, institutionalized and interpersonal discrimination, and ongoing impacts of historical injustices on health and health care. Cultural safety differs from conventional cultural sensitivity training in that it aims to shift attention away from "cultural differences" as the source of the problem, and onto the culture of health care as the site for transformation.
The EQUIP intervention used the San'yas Indigenous Cultural Safety training (ICS), a facilitated online training program developed by the British Columbia (BC) Provincial Health Services Authority (PHSA) Aboriginal Health Program, to educate and engage participating PHC staff in discussions about racism and discrimination, and how these can be experienced and addressed in health care settings. EQUIP also facilitated "integration sessions" to help staff at each clinic consider implications for enacting cultural safety in their local contexts.
To bring this training to a new jurisdiction, EQUIP partnered with several First Nations and Métis leaders in southern Ontario to adapt the BC Core Health ICS training to reflect the socio-cultural and historical realities of local Indigenous populations. This resulted in an Ontario-specific version of ICS, which was delivered to staff at the participating clinics in Ontario. Capitalizing on lessons learned from these initial adaptations, Indigenous health leaders in Ontario subsequently worked in partnership with PHSA to expand and refine the Ontario ICS and are now making it available to health care providers on a larger scale, with the support of several Local Health Integration Networks.
ICS aims to stimulate positive changes in knowledge, attitudes and actions related to Indigenous people that are also generalizable across diverse socio-cultural groups.  PHSA's own evaluations have demonstrated initial success of the BC ICS in promoting culturally safe practices and enhancing knowledge related to systemic racism and inequities.  Since ICS sensitizes learners to the impacts of racism and stereotyping more broadly, it could be an important tool in preparing health care providers to better serve a broad range of diverse clients. A key objective of EQUIP is to see if the intervention, including the cultural safety component, can shift the way that health care is delivered, and whether these shifts lead to improved short-term outcomes for patients such as health care experiences and access to services.
Associated links
Selected publications
Browne, A. J., Varcoe, C., Ford-Gilboe, M., & Wathen, N. on behalf of the EQUIP Research Team (2015). EQUIP Healthcare: An overview of a multi-component intervention to enhance equity-oriented care in primary health care settings. International Journal for Equity in Health, 14(152). doi:10.1186/s12939-015-0271-y
Wallace, B., Browne, A. J., Varcoe, C., Ford-Gilboe, M., Wathen, C. N., Long, P. M., & Parker, J. (2015). Self-reported oral health among a community sample of people experiencing social and health inequities: Implications for the primary health care sector. BMJ Open, 5(e009519). doi:10.1136/bmjopen-2015-009519
Ponic, P., Varcoe, C., & Smutylo, T. (in press). Trauma- (and violence-) informed approaches to supporting victims of violence: Policy and practice considerations. Department of Justice (DOJ) Victims of Crime Journal.
Browne, A.J., Varcoe, C., Wong, S., Smye, V., Lavoie, J., Littlejohn, D., Tu, D. Godwin, O., Krause, M., Khan, K., Fridkin, A., Rodney, P., & O'Neil, J. (2012). Closing the health equity gap: Evidence-based strategies for primary health care organizations. International Journal for Equity in Health, 11(59), doi: 10.1186/1475-9276-11-59
Varcoe, C., Browne, A. J., & Ponic, P. (2013). Promising Theoretical Contributions to the Measurement of Racial Discrimination: Critical Literature Review. Ottawa: Public Health Agency of Canada.
Date modified: