Facing suicide, from a parent's perspective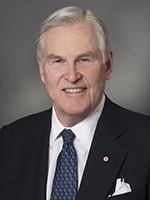 The Honourable Michael H. Wilson
Michael Wilson is a former Canadian finance minister and former ambassador to the United States, Chairman of Barclays Capital Canada Inc. and Vice-Chair of the CIHR Governing Council.
Mr. Wilson is also a mental health advocate, having lost a son to depression and suicide; he led the establishment in the Cameron Parker Holcombe Wilson Chair in Depression Studies at the University of Toronto.
Can you share with us what happened to your son and the impact this had on your family?
Our son, Cameron, had a bad temper from time to time. He loved hockey but regularly got into fights. He also had trouble developing relationships. We thought this was a sign of problems growing up. But then he had some psychotic episodes and we realized that this was far more serious. He was in and out of the hospital and, ultimately, this became too much for him and he took his own life.
There seems to be a growing problem of mental illness in Canada. What are the challenges faced by people who suffer from depression in this country?
Stigma and discrimination prevent people from getting the treatment they need. In a 2008 poll, half of Canadians said they would hide a family member's mental illness from friends and colleagues. I can certainly personally attest to the stigma – I remember Cameron pleading with us not to tell anyone that he had been hospitalized for a mental illness. Depression is a leading cause of disability, and yet only one third of Canadians who actually need care ever receive it. This is a health, social justice and economic issue. Depression can lead to isolation, broken relationships, job loss, poor quality of life and death.
What are the resources available for people living with mental illness and for their families?
There are many resources available for people living with mental illness and their families. Specialty mental health centres, like the Centre for Addiction and Mental Health (CAMH), offer clinical care and supports, online resources and group supports. For kids, there are educational resources through storybooks and crisis assistance through initiatives like Kids Help Phone. Public, secondary and postsecondary schools are increasing their supports for students through enhanced counselling services and peer supports.
How is research contributing to addressing this mental health issue?
Research has a valuable contribution, on two levels – first, to understand the complex causes of suicide, and second, to use this knowledge to improve prevention and treatment approaches. Suicide has a genetic component, but a person's life experiences, such as stress or trauma, can interact with genes to increase the risk of suicide. The risk is also higher in people with a mental illness. There's some fascinating CIHR research at CAMH that is looking at this gene-environment interaction, which is called epigenetics. If we can understand the causes at this level, we're in a much better position to develop more focused, targeted prevention and treatment approaches. In terms of treatment, there are effective therapeutic approaches such as dialectical behaviour therapy and cognitive behavioural therapy. But continued investment in research is critical to uncovering causes and developing better treatments.
Can you tell us what we can do to help improve the lives of people who are struggling with disorders such as depression?
I was compelled to act because of my personal experience – but all of us will be affected in one way or another. We need to eliminate the stigma and discrimination that prevents people from getting the treatment and supports that they need and deserve. This is going to take each and every one of us – we need to have discussions with our policy makers, in our boardrooms, at our kitchen tables and in our classrooms. And in order to improve the care and treatments for the patients of tomorrow, we need to continue to invest in research and innovation. The brain is the least understood organ in our body. However, I believe we are at a tipping point in brain science. We need to develop partnerships between the public and private sectors so that we may continue to uncover the mysteries of the mind. We also need to ensure our medical schools are equipping the next generation of clinicians across the health care system with the knowledge and training to treat mental illnesses in addition to physical illnesses.
Date modified: