Executive Management Committee
Chief Financial Officer and Vice-President, Resource Planning and Management Portfolio
Thérèse Roy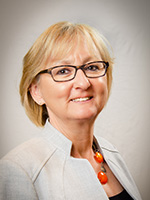 Thérèse Roy, FCPA, FCA is the Chief Financial Officer and Vice-President, Resource Planning and Management of the Canadian Institutes of Health Research (CIHR). In this role, Ms. Roy provides leadership across the organization in the development and implementation of policies, initiatives and new technology to support effective resource planning and management and the ongoing betterment of CIHR's performance through audits, evaluations and internal controls. Ms. Roy is responsible for the following branches: Finance; Human Resources; Information, Technology and Administration Management Services; and Performance and Accountability.
Before joining CIHR in May 2013, Ms. Roy was the A/Chief Financial Officer and Deputy Chief Financial Officer at Natural Resources Canada (NRCan). In this role, she successfully led several projects such as the migration from the NRCan legacy financial system to SAP with partners. She has extensive experience working in small, medium and large organizations within the federal government. She chaired the Deputy Chief Financial Officer Council for five years where she provided leadership, advice and shared best practices with the community while influencing policy direction for the Government of Canada in the area of financial management.
Her career path has included several other senior positions within the public sector, including Director, Financial Planning and Resource Management; Interim Director General Finance at Canadian Heritage; and Executive Director, Finance and Corporate Planning at the Privy Council Office. Ms. Roy started her career in the private sector with Ernst and Young as an auditor and senior consultant. She gained valuable experience in negotiating funding arrangements with partners. She was also a lecturer at Laval University as well as invited expert on several occasions, and worked with the Australian Department of Finance, where she advised on the Real Property Portfolio divestiture.
Ms. Roy holds a Bachelor of Accounting from the University of Sherbrooke and is a chartered professional accountant (CPA, CA). She has a Certificate in Public Sector Leadership and Governance from the University of Ottawa.
Email: therese.roy@cihr-irsc.gc.ca
Date modified: