Canadian Institutes of Health Research Annual Report 2012–13: Innovative, Strategic, Current
Accelerate the Capture of Health and Economic Benefits

Patients, Partners and Co-Management of Research for Improved Patient Care
New knowledge created by research, while valuable, seldom translates into improved health outcomes without considerable effort.
Accelerating the health and economic benefits of research requires a willingness to test new business models for engaging partners and managing research. The Strategy for Patient-Oriented Research (SPOR) addresses these demands.
SPOR represents a coalition of federal, provincial and territorial levels of government. It represents a convergence of partners from the private sector, voluntary health organizations and philanthropic interests.
Capture patients' first-hand knowledge of the effectiveness and limitations of current treatments
SPOR stresses an active and direct role for patients and health care consumers in the research process to capture their first-hand knowledge of the effectiveness and limitations of current treatments and procedures. SPOR facilitates collaborations with a wide range of partners and engages these groups as co-managers of the research process. The strategy is purposely geared to address specific and achievable health challenges instead of long-term, open-ended research questions.
In 2012–13, Health Minister Leona Aglukkaq announced the first SPOR research network: Transformational Research in Adolescent Mental Health (TRAM).
Create measurable improvements in health care for 11- to
25-year-olds
Young people are more susceptible to mental health disorders than any other age group, yet because existing services tend to focus on younger children and older adults, they have the least access to care. TRAM focuses on creating measurable improvements in mental health care for 11- to 25-year-olds.
TRAM is the result of an exciting new partnership between the Graham Boeckh Foundation and CIHR that exemplifies a new way of doing business.
Under TRAM, the criteria and process for reviewing research proposals have changed dramatically and now include a mandatory planning workshop to refine the hypotheses of research protocols before applicants move forward in the evaluation process. Furthermore, successful research proposals must include the active participation of patient/family representatives, policy makers, researchers, service providers and community organizations.
As CIHR enters fiscal year 2013–14, we are confident that the business models used to manage and support research will continue to improve and will yield strategic solutions to health challenges.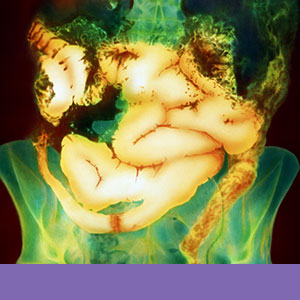 New drug marks first advance in short bowel treatment in four decades
A new pharmaceutical developed by CIHR-funded researcher Dr. Daniel Drucker of Mount Sinai Hospital's Samuel Lunenfeld Research Institute has been approved by the U.S. Food and Drug Administration to treat patients with short bowel syndrome. The drug, called teduglutide or Gattex®, is marketed by NPS Pharmaceuticals and represents the first advance in a long-term treatment option for the debilitating condition in almost 40 years.
Short bowel syndrome occurs in patients who have had half or more of their small intestine removed – usually due to Crohn's disease, trauma, ischemic bowel injury or bowel cancer. As a result, patients cannot absorb enough water, vitamins and nutrients and must rely on intravenous feeding for provision of nutrients and to maintain hydration. The new drug promotes repair and normal growth of the intestinal lining, decreases energy loss and increases nutrient absorption. In follow-up long-term clinical studies, one in seven patients treated with teduglutide were able to discontinue intravenous nutrition. Dr. Drucker is internationally renowned for his work in the field of gut hormones and their role in diabetes, obesity and inflammatory bowel disorders.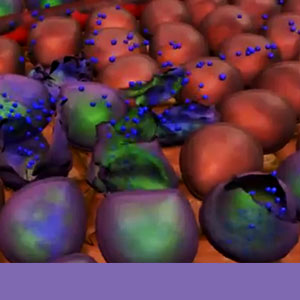 One step closer to potential cancer treatment using virus to kill cancer cells
A naturally occurring, benign virus that does not cause any major illnesses in humans is proving effective against cancer cells (see left). Since 1998, when he identified the reovirus as a cancer killer in mice, Dalhousie University virologist Dr. Patrick Lee has steadily expanded the understanding of how the virus infects a cancer cell. The reovirus replicates within a cancer cell to produce thousands of particles that eventually rupture it (see photo). The released virus particles then seek out neighbouring cancer cells to repeat the process, leaving normal cells untouched. Dr. Lee's current work (his most recent paper on the reovirus appeared in early 2013 in Molecular Therapy) adds further evidence that the virus also works to stimulate the body's immune system to attack tumours.
Oncolytics Biotech Inc. of Calgary, whose Chief Operating Officer, Dr. Matt Coffey, co-authored the original 1998 paper with Dr. Lee, is working to bring the reovirus to the clinic with a therapy called Reolysin®. The company is conducting a 14-country Phase III clinical trial – the last step before securing approval to take a new treatment to market – using intravenously administered Reolysin in combination with chemotherapy to kill head and neck tumours. Photo courtesy of Oncolytics Biotech Inc. and BioDigital.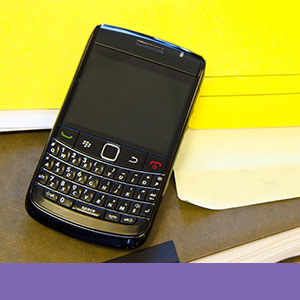 Software first built for survey helps decision makers analyze gaps in care
What began as a roadside survey tool has scaled up into a new software platform to help health care providers quickly turn reams of non-integrated data into usable information to support sound decisions. The work began in 2005 when Dr. Anne Snowdon asked Dr. Robert Kent of the University of Windsor's School of Computer Science to create software to compile child seat survey data for Transport Canada using BlackBerry devices. A local hospital then enlisted the team to develop a tracking tool to collect data to quickly identify ways to prevent falls among their elderly patients.
Dr. Snowdon then led a project in 2010 in partnership with the Erie St. Clair Local Health Integration Network – one of 14 in Ontario – to examine use of primary health care services throughout the region. The sophisticated software they developed was able to upload and analyze anonymized data from hospital administrative records, the Ontario Health Insurance Plan, Emergency Medical Services and Telehealth Ontario to pinpoint gaps in care. Dr. Snowdon, now Chair of the International Centre for Health Innovation at the Richard Ivey School of Business at Western University, and her colleagues have filed patent applications and are in discussions with several provincial health ministries to use the software platform.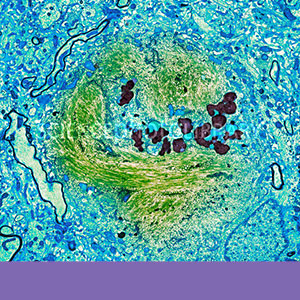 Could a vaccine prevent the development of the devastating disease?
Researchers at Laval University and the Centre hospitalier universitaire de Québec are developing a vaccine that may help prevent, and possibly even treat, Alzheimer's disease. The illness is characterized by the accumulation of toxic amyloid beta molecules in the brain. Immune cells fail to clear the molecule and it aggregates in formations known as plaques (see above).
Dr. Serge Rivest and his team are studying the possibility of using monophosphoryl lipid A (MPL) to activate immune cells in the brain to eliminate amyloid beta. In a recent study published in the Proceedings of the National Academy of Sciences, they were able to clear a significant amount of amyloid beta and improve cognitive function in mice with Alzheimer's disease. If these findings can be replicated in humans, it would represent a major advance in the fight against Alzheimer's disease. The researchers are working with GlaxoSmithKline, the pharmaceutical company that originally developed and tested MPL as a vaccine adjuvant.
Date modified: