2012–13 CIHR-IHSPR/CAHSPR Student Poster Competition Prize Winners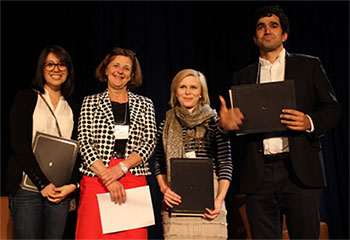 Photo: Jocelyn Pang, IHSPR SD Robyn Tamblyn, Elizabeth Wall-Wieler and Andrew Boozary
Each year at the Canadian Association for Health Services and Policy Research (CAHSPR) conference IHSPR sponsors a Student Poster Competition. This competition is designed to encourage graduate students to attend and showcase their work at CAHSPR, Canada's pre-eminent health services and policy research conference, and to recognize the outstanding research efforts of up-and-coming health services and policy researchers.
Prizes are awarded to the three top-ranked posters in the amounts of $1,200, $800, and $600, for first, second and third prize respectively. Posters are reviewed by a team of expert reviewers who each devote their time and effort to conducting the reviews.
CAHSPR-IHSPR would like to congratulate the winners of the 2012-13 CIHR-IHSPR/CAHSPR Student Poster Competition:
First place: Andrew Boozary of the Institute for Clinical Evaluative Sciences, for his poster "Evaluating Pay-for-Performance in the Emergency Room"
Second place: Jocelyn Pang of University of Waterloo, for her poster "Efficacy and consumer preferences for calorie labelling on menus"
Third place: Elizabeth Wall-Wieler of University of Manitoba, for her poster "Adolescent Health and Educational Achievement: A Life course Exploration"
Winners are encouraged to use their prize money to further their careers in health services and policy research. Congratulations to our winners and we look forward to seeing you at next year's CAHSPR conference!
IHSPR wishes to extend its sincere thanks and appreciation to the 2012-13 CIHR-IHSPR/CAHSPR Student Poster Competition Reviewers:
Ahmed Bayoumi
Mylaine Breton
Stirling Brian
Fiona Clement
Alice Dragomir
Michael Green
Sara Guilcher
Sara Kreindler
Erik Latimer
Lisa Lix
Angela Ly
Michael Moffat
Wendy Norman
Amélie Quesnel-Vallée
Christian Rochefort
Zahava Rosenberg-Yunger
Michael Schull
Jennifer Zelmer
Date modified: