CIHR Canadian National Brain Bee
2013 Participants
Hamilton student wins best brain in Canada!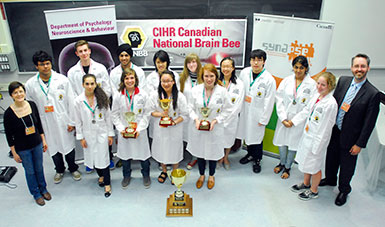 Top left - Dr. Judith Shedden (Chair CCNBB), Gunvir Sidhu (Edmonton), Keiler Totz (Victoria), Anokh Singh Dhillon (Vancouver), Sophia Ly (Toronto), Melanie Colvin (London), Hanna Zhang (Ottawa), Andrew Kim (Calgary), Unnimaya Sindhu (Waterloo), Noël De Sasio (Kingston), Dr. Eric Marcotte (CIHR), Bottom left - Firoza Lussier (Montreal), Alina Otrin (Guelph), Sharon Yang (Hamilton), Neria Aylward (St. John's).
Congratulations to our top three winners!
Sharon Yang, Westdale Secondary School, Hamilton Ontario
Alina Otrin, John F Ross CVI, Guelph Ontario
Neria Aylward, Holy Heart High School, St. John's Newfoundland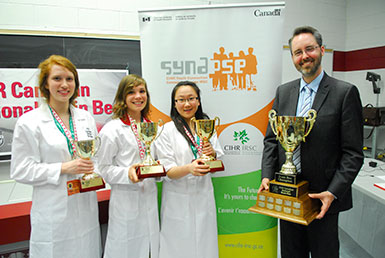 CIHR Associate Director Eric Marcotte (right) and the top three winners: from left – Neria Aylward (third place), Alina Otrin (second place), and Sharon Yang (winner)
On June 1st, 13 high school students from across Canada competed against each other at the CIHR 6th annual Canadian National Brain Bee. The first place winner Sharon Yang, from Westdale Secondary School in Hamilton, Ontario, won the right to be called best brain in Canada by answering questions about neuroscience and brain activity. The event, held at McMaster University in Hamilton, Ontario, quizzed students on memory, sleep, intelligence, emotion, perception, stress, aging, brain-imaging, neurology, neurotransmitters, genetics and brain disease. The top three winners of the competition took home trophies and scholarship awards of $1,500, $1,000, and $500, respectively. Sharon, the first place winner, also won a giant trophy, which will be displayed at her school for a year, and will be given the opportunity to work as a summer intern in a neuroscience laboratory.
Sharon will represent Canada at the International Brain Bee championship in Vienna, Austria, which will be held in conjunction with the 21st World Congress of Neurology (September 21-26, 2013).
Date modified: