Autistic Strengths
Back to feature: Autism Matters – to Everyone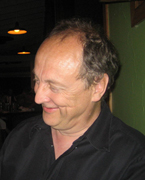 Who? Dr. Laurent Mottron, MD, PhD, holder of the Marcel and Rolande Gosselin Research Chair in Fundamental and Applied Neuroscience of the Autism Spectrum and Full Professor in the Department of Psychiatry at the University of Montreal.
What's the Issue? Dr. Mottron studies the especially perceptive way in which people with autism process information. He is also interested in how these people can be integrated into society from their earliest childhood without altering their differences—somewhat as society has done with deaf people by accepting the sign language that they invented. Dr. Mottron wants to show that people with autism can make a powerful contribution to society without having to be "cured".
What's the Research? The goal of Dr. Mottron's research is to update our understanding of how people with autism perceive reality and of the mechanisms that make their mental processes different from other people's at every level. To investigate these questions, he uses tools from cognitive neuroscience and neuropsychology, along with brain imaging.
What's the Impact? Dr. Mottron's research team's findings have gone a long way toward identifying and explaining the special strengths of people who have autism. In particular through the efforts of autistic researcher Michelle Dawson, his team has played a leading role in ensuring that autism is no longer regarded solely as a deficit disorder by researchers internationally. Dr. Mottron presented this position in an article entitled "Changing perceptions: The power of autism" that appeared in the journal Nature (479, 33–35 (03 November 2011). In the next stage of his research, he will be developing an early-intervention program that incorporates the strengths that his team has identified in people with autism.
Visit Dr. Laurent Mottron's website (only in French).
Read a summary of his research.
Date modified: