Autism: From Causes to Interventions
Back to feature: Autism Matters – to Everyone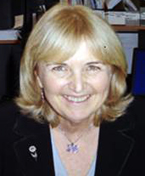 Who? Dr. Wendy Roberts, Professor Emerita of Paediatrics at the University of Toronto and Developmental Paediatrician at the Hospital for Sick Children (SickKids).
What's the Issue? Autism Spectrum Disorder (ASD) contains many shades of many colours. People on the spectrum can have very different profiles of sociability, intelligence, language ability, and specific interests and skills. This makes diagnosis a challenge for clinicians and teachers without a lot of experience. Not only is it important to recognize the behavioural symptoms of autism – it's also critical to recognize the frequently associated medical problems. Sleep issues, constipation and gastroesophageal reflux along with seizures are the most commonly seen medical problems in ASD. They may lead to severe behavioural reactions that are dismissed as "just autism!"
What's the Research? With the help of funding from the Canadian Institutes of Health Research, I am examining the signs of autism in infancy, the developmental trajectories of these babies as they get older, the genetic roots of autistic behaviour, and the interventions that can lead to better outcomes.
What's the Impact? My research is helping parents and clinicians recognize the signs of autism earlier and implement interventions at an age when more of the symptoms may be reversible or modifiable. I use recent research findings to train diagnosticians to better predict the developmental trajectories of children with ASD. I led the Toronto site of the Autism Speaks Autism Treatment Network (ATN), working as part of a North American Network team to develop toolkits that address issues like toileting, sleep, and use of medications to help with behavioural and mood problems.
Says Roberts: "Once an individual or family has been affected by autism, life is never quite the same. Families and individuals deserve an integrated system of care from an informed interdisciplinary health care team that will support them in finding the optimal pathway to adulthood that allows the best possible quality of life as children, youth and adults with ASD."
Date modified: