CIHR Partnership Award – 2012
Ottawa Neighbourhood Study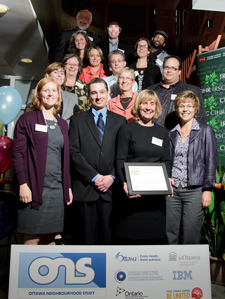 Partners on the Ottawa Neighbourhood Study receive the award at the Western Ottawa Community Resource Centre in Kanata, ON.
The Ottawa Neighbourhood Study was set up in 2005 to measure, quantify and map different aspects of the social and economic determinants of health across the city. Team members worked together to collect this information neighbourhood-by-neighbourhood. They gathered obesity rates, numbers of parks or green spaces, quality of housing, and much more. The idea was that with these figures in hand, governments and residents could better address social challenges by directing interventions based on each neighbourhood's needs. The team includes partners from the University of Ottawa, Carleton University, the City of Ottawa, local community health and resource centres, Ottawa Public Health, United Way/Centraide Ottawa, the Champlain Local Health Integration Network, IBM, and other community groups within Ottawa.
The team was led by Dr. Elizabeth Kristjansson from the University of Ottawa. "Without the invaluable contributions of Ottawa residents and our partners in public health, community services, municipal planning and the private sector, ONS could never have accomplished as much," she said. "This partnership adds value to our research and we are pleased that the CIHR award has acknowledged this."  
The data collected by the Ottawa Neighbourhood Study is now being used for urban and health planning, as well as to mobilize residents for healthier and safer communities. This study has had a great impact on informing public policy and public education at the community level. And, the study results have affected a wide range of populations – all ages, cultures and income levels. The Ottawa Neighbourhood Study approach is now being considered by other cities in Canada.
"I congratulate all those who have worked with the Ottawa Neighbourhood Study for winning this prestigious national award," said Dr. Bob Thirsk, Vice-President at the Canadian Institutes of Health Research. "By bringing together such a diverse group of researchers, community and private partners, the team has made impressive advancements in the way the needs of communities in Ottawa are addressed."  
One reviewer on the award selection panel referred to the Ottawa Neighbourhood Study as the "project that keeps on giving."
The CIHR Partnership Award recognizes partnerships with one or more external partners from the private, voluntary or public sectors which exemplify excellence by bringing health research communities together to create innovative approaches to research questions; to develop research agendas that are responsive to the health needs, concerns and priorities of Canadians; and to accelerate the translation of knowledge for the benefit of Canadians.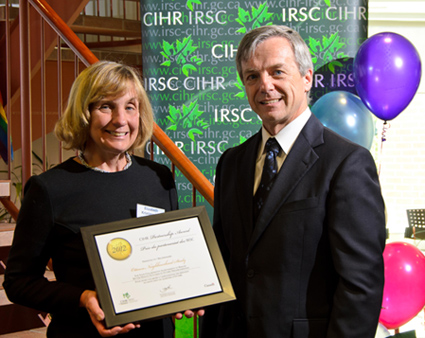 Dr. Bob Thirsk, CIHR Vice-President, presents Dr. Elizabeth Kristjansson with the 2012
CIHR Partnership Award.
Date modified: