IMHA Young Investigators Forum - 2012
June 11-12, 2012
Toronto, Ontario
Overview
The forum offers young investigators (YI) tools to better prepare for and enhance their success in CIHR's grant competitions, with the overall goal of providing them a 'home' in the Institute of Musculoskeletal Health and Arthritis (IMHA) research community.
Eighty young investigators from across Canada participated in the forum and took part in a poster session where they each presented findings from their scientific research.
Purpose
To bring together Young Investigators (YI) from IMHA's focus areas to:
interact with one another
learn about upcoming CIHR initiatives
to attend workshops important for career development and related skills
Outcomes
The YI forum was a major training and educational initiative. The young investigators in attendance:
networked with one another
learned about research from our six focus areas
improved their understanding of

the CIHR grant writing process
upcoming changes to CIHR programs
the CIHR peer-review process.
The young investigators in attendance provided positive feedback on an online survey and were enthusiastic about future initiatives of this kind.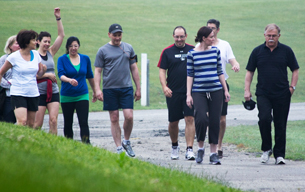 Participants of the "IMHA on the Move" fun walk/run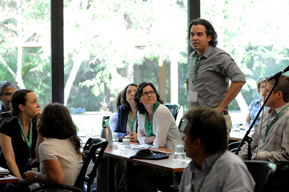 A workshop participant asking a question
IMHA thanks the members of the conference steering committee and all those who participated for their contributions to this important initiative.
Date modified: