Integrating expectations from decision makers and DSEN researches: Drug Safety and Effectiveness Network 2nd Meeting
Albert at Bay Suite Hotel, 435 Albert Street, Ottawa, ON
Meeting Report
March 23, 2012
Ottawa, ON
---
Background
In establishing the collaborative nature of the DSEN structure, the DSEN Coordinating Office has plans to hold regular meetings of the DSEN research community twice annually. This will facilitate knowledge translation and sharing of best practices amongst Collaborating Centres. It also provides an opportunity to invite other teams funded by DSEN and relevant stakeholders to expand on the network structure of the program. These recurring network meetings are essential to the function of the teams and the network as a whole. Therefore, there should be representation from all the Collaborating Centres and specially funded areas under DSEN's envelop. Nominated Principal Investigators or alternates are expected to attend and participate in these meetings to update CIHR/DSEN on their progress, interact with other teams, and share findings and challenges to benefit the DSEN research agenda. The DSEN Coordinating Office will make any effort to facilitate interactions between researchers and relevant stakeholders to guarantee good communication and clarify expectations.
DSEN held the 2nd event of the series on March 23, 2012 in Ottawa to bring decision makers, DSEN funded researchers, and trainees together to gain common understanding and to enhance Network functioning.
The main objectives of this meeting were:
To provide network-wide interaction between DSEN funded researchers and decision makers
To present and integrate expectations with results
To present and discuss the Query submission process
To help gain greater understanding of Network research capacity and how this can address DSEN Queries using available methodologies
To support trainees and provide them with exposure to the DSEN community
To update participants on recent developments and upcoming plans and activities including DSEN accountability under performance measurement criteria
To support a culture of reporting within the DSEN program
Meeting Summary
This 2nd Network meeting held by DSEN in Ottawa was attended by 51 participants (Agenda is attached in appendix 1 and attendees' list in appendix 2). After the welcome and introductions, Robert Peterson, DSEN Executive Director gave a brief overview of DSEN and its organizational structure at this point in time (appendix 3). He also explained the objectives of the day. The morning session was dedicated to progress report presentations by different teams funded under the DSEN envelope. In the afternoon, a panel composed of DSEN researchers, and provincial and federal decision makers discussed the expectations from decision makers and expectations from DSEN researchers. Following the panel discussion and question session, three of the DSEN staff gave updates on important CIHR and DSEN program business (i.e.: performance measurement, research results reporting, and new DSEN funding opportunities).
The AM session:
Following the introductory round table, the DSEN funded teams each gave a short progress report. Presentations were given as follows:
TNMA by Shannon Kelly and Sabine Steiner. The team is developing novel ways of presenting methods and setting up projects for trainees and working intensely on the demonstration project (Warfarin and Atrial Fibrillation) in spite of the initial difficulty of finding the necessary data. This situation is getting better now given that new RCTs are under way. The team is developing partnerships and collaborations and will be presenting at the upcoming CADTH Symposium.
PREVENT by Richard Kim and Colin Ross. The group is working on their demonstration project on anthracycline-induced cardiotoxicity, especially in children, hoping to identify genetic markers. They have a second project on Plavix and MI risks as related to genetics. A third project on drug level analysis and pharmacogenetics was also presented. More specifically, the team outlined their interest to develop a subsequent project related to statin adverse reactions.
NETMAN by Brian Hutton. This team is collaborating with the other meta-analysis funded researchers for the development of common templates for feasibility analysis to address DSEN Queries. NETMAN is now developing software for meta-analysis that will be validated and made freely available. NETMAN is also putting efforts towards development of University courses and other software and is collaborating on workshops and conferences.
CAN-AIM by Michal Abrahamowicz and Sasha Bernatsky. The team focussed on methodology and capacity building. The team members are developing statistical models for different levels of exposure to drugs, and patterns of use with regards to benefits and risks. The team presented their demonstration project on DMARDs and Rheumatoid Arthritis using administrative data and the efforts to access more data from Canadian cohorts. They will be holding a workshop in May in Montreal.
CNODES by Samy Suissa. The four pillars of the team were presented: Methods, KT, Database, and Training. They are developing SOPs to optimize timely response to Queries. The team has also nominated committees for Authorship, Policy, Publications, and COI management. CNODES' website is in progress and is being developed by the CNODES Coordinating Centre. A study on CV risks and NSAIDs was provided as an example for establishing a signal based on three different provincial data sets (ON, QC, and SK). This study shows that small but important differences in drug effects can be detected on large samples, provided that the statistical method used is the same for all data sets.
SEARCH by Bruce Carleton. There seems to be an increase in ADRs that could be due to an increase in reporting or an increase in ADRs as such. Dr. Carleton highlighted that physicians and pharmacists have a low reporting rate and this needs to be improved. The team efforts focus on prediction instead of reaction to ADRs, and have led to numerous peer review publications, and label changes (FDA and HC). They have also drafted guidelines for clinical practice regarding six drugs for primary care physicians and pharmacists. He also emphasized the team's efforts in the clinical characterization of ADRs.
KSRU by Sharon Straus. The collaboration on the Query process between the three meta-analysis teams was again emphasized. The Query assessment, prioritization and allocation is centralized and responses are internally peer reviewed. For its demonstration project, KSRU is examining the efficacy and safety of use of cognitive enhancers for Alzheimer and mild cognitive impairment and will prepare a decision aid for families regarding those drugs. Sharon Straus enumerated some of the team's KT activities such as Seminar series on KT, end of grant KT course, a systematic review course, and a Summer Institute that will focus on rapid review development.
CDSERN by Michael Paterson. This CIHR Emerging Team Grant predates the existence of the DSEN program. Its goal is to generate evidence on safety of drugs based on four provincial administrative databases (ON, MB, BC, QC) and CDSERN has links with ICES and Health Canada for the dissemination of findings. There is still more potential for future methods development and collaboration opportunities with Health Canada and other teams.
DSECT by Lisa Dolovich. This STIHR grant also predates the existence of DSEN. It supports development of trainee cohorts on drug safety and effectiveness based on different methods and content with a global and multidisciplinary approach. It provides an opportunity for bridging scientific domains and incorporates KT in all parts of the program. It also offers an annual symposium, online sessions, courses, seminar series on different scientific topics, a book club, mentoring, etc. This program links with CNODES and other DSEN teams. Dr. Dolovich gave also an overview of the work in progress on the National Curriculum development discussion and DSECT's collaboration with DSEN and Health Canada to achieve short and long term objectives on this project.
The PM Session:
After the networking lunch, Robert Peterson introduced the panel discussion and highlighted the Query process. He mentioned that decision makers have control on the kind of Queries they submit and researchers evaluate their feasibility. The DSEN Steering Committee prioritizes feasible questions but do not make decisions about funding. At this point, DSEN has the capacity to undertake all the feasible Queries identified thus far but in the future prioritization will be needed.
Panelists were: Daniele Brûlé-Brown (HC), Judy McPhee (Nova Scotia), Sharon Straus (KSRU), Brent Fraser (Ontario), David Henry (CNODES), Bruce Carleton (SEARCH).
Bruce Carleton highlighted a need to fine-tune Queries with the stakeholders and decision makers through meetings and/or phone calls to better understand what kind of result is needed from a Query. He also mentions that there is a necessity for more feedback about Queries, and for question and response refinement. There is also a need to expand surveillance in family practice, community hospitals and patient populations, to change clinical guidelines and to educate physicians and other health professionals, as well as to give clinicians tools to better manage patients.
David Henry stressed the need for research results to be translated into practice. Feedback is needed in both directions. In the process of Query submission, researchers in the field may also have Queries and there is perhaps a need for creating portal mechanism for moving those questions forward. Continuous feedback is needed before mobilization of the whole system because it might be hard to go back and reverse the process once it is operating.
Brent Fraser mentioned that rapid assessment can be valuable as the provinces have an effectiveness focus. KT is important because provinces don't necessarily read reports and it is often difficult to interpret those available. He also mentions that timeliness is of primary importance. Once a decision for reimbursement is done, provinces cannot reverse the decision easily. Knowledge has to be available beforehand to inform decisions.
Sharon Straus congratulated DSEN for the integrated KT model that characterizes the DSEN program. She also mentioned the need for early engagement of the decision makers and that coordination is needed in order to obtain necessary feedback in a timely manner. She introduced the notion of rapid review and meta-analysis and their usefulness for provinces. The end product should be useful and a KT team across DSEN Collaborating Centre could be an interesting resource for all parties.
Judy McPhee added that a lot of research comes too late to provinces and/or there is no way for the provinces to implement them. She also stated that provinces fund drugs despite gaps in evidence. Value for money is of course important, but provinces need safe and effective drugs.
Danielle Brûlé-Brown indicated that signals on pharmaceutical products and medical devices arising from literature, surveillance and reporting, clinicians, and researchers are assessed by the regulator and risk mitigation strategies are recommended. However information gaps still exist and therefore Queries are submitted to DSEN. Decision makers need to meet with researchers in order to submit adequate questions and know how to submit them. She added that it would be important for HC to be able to discuss and go back to researchers after knowing what the proposed research protocol is. Timeliness is important as well as good quality reviews.
Following the panel discussion, DSEN Staff gave short presentations on DSEN business as follow:
Diane Forbes spoke of the integrated reporting structure that DSEN is developing and mentioned the numerous sources through which DSEN is collecting the evidence/data needed for reporting. DSEN will also use the CIHR structure for reporting on grants and awards using CIHR's Research Reporting System.
Siham Yasari gave an overview of the CIHR Policy on Access to Research Outputs and the ways by which researchers can comply with this policy. She enumerated the positive impacts on research and on the public awareness that result from the adherence with this policy.
Christian Brochu presented DSEN's Rapid Funding tool in the context of the usual CIHR funding cycles. This new funding tool will allow researchers to respond to Queries submitted by decision makers in a timely fashion.
The meeting was adjourned at 3:15 pm and participants were notified that they will receive an electronic questionnaire to collect their feedback on this event. DSEN plans to hold its next Network meeting on October 19, 2012.
---
Appendix 1 - Meeting Agenda
8:30 – 9:00 Registration and breakfast (provided)
9:00 -9:15
Welcome and review of the objectives for the day (Robert Peterson)
9:15 – 10:45
DSEN Collaborating Research Teams' updates (15 minute presentations with 5 min Q&A)
George Wells for TNMA
Richard Kim for PREVENT
Brian Hutton for NETMAN
Michal Abrahamowicz for CAN-AIM
10:45 – 11:00 Networking break
11:00 – 12:45
DSEN Collaborating Research Teams' updates (cont'd)
Samy Suissa for CNODES
Bruce Carleton for SEARCH
Sharon Straus for KSRU
Other DSEN funded researchers' presentations (10 minute presentations with 5 min Q&A)
David Juurlink for CDSERN
Lisa Dolovich for DSECT
12:45 – 13:30 Networking lunch (provided)
13:30 – 13:45
Introduction to the panel discussion: Integrated Query Submission process (Robert Peterson & Christian Brochu)
13:45 – 14:45
Panel discussion: Expectations from decision makers and expectation from DSEN researchers
Provincial and Federal decision makers (Daniele Brule-Brown, Brent Fraser, Olaf Koester)
DSEN researchers (David Henry, George Wells/Sharon Straus, Bruce Carleton)
14:45 – 15:45
DSEN business:
DSEN program performance measurement and CIHR Research Progress Reporting (Diane Forbes)
CIHR Policy on Access to Research Outputs (Siham Yasari)
Announcement of upcoming DSEN events and opportunities (Robert Peterson)
Open discussion/Questions
15:45 End of meeting
---
Appendix 2 - List of Attendees
Abrahamowicz, Michal
CAnadian Network for Advanced Interdisciplinary Methods for Comparative Effectiveness Research (CAN-AIM)
McGill University

Aminkeng, Folefac
Pharmacogenomics of Adverse Events National Team (PREVENT)
University of British Columbia

Amstutz, Ursula
DSEN active Surveillance and Evaluation of Adverse Reactions in Canadian Healthcare team (SEARCH)
University of British Columbia

Bernatsky, Sasha
CAnadian Network for Advanced Interdisciplinary Methods for Comparative Effectiveness Research (CAN-AIM).
McGill University

Beyene, Joseph
DSEN Knowledge Synthesis Research Unit (KSRU)
McMaster University

Brochu, Christian
Drug Safety and Effectiveness Network (DSEN)
Canadian Institutes of Health Research

Brulé-Brown, Danielle
Marketed Pharmaceuticals and Medical Devices Bureau
Health Canada

Cadarette, Suzanne
Canadian Network for Observational Drug Effect Studies (CNODES)
University of Toronto

Carleton, Bruce
DSEN active Surveillance and Evaluation of Adverse Reactions in Canadian Healthcare team (SEARCH)
University of British Columbia

Cogo, Elise
Therapeutic Effectiveness and Policy Bureau
Health Canada

Delage, Johanne
Drug Safety and Effectiveness Network (DSEN)
Canadian Institutes of Health Research

Dolovich, Lisa
Drug Safety and Effectiveness Cross-Disciplinary Training (DSECT) Program
McMaster University

Ernst, Pierre
Canadian Network for Observational Drug Effect Studies (CNODES)
McGill University

Fillion, Kristian
Canadian Network for Observational Drug Effect Studies (CNODES)
McGill University

Forbes, Diane
Drug Safety and Effectiveness Network (DSEN)
Canadian Institutes of Health Research

Forestell, Stuart
Office of Pharmaceuticals Management Strategies
Health Canada

Fraser, Brent
Pharmaceutical Strategy, Drug Program Branch
Ministry of Health and Long-Term Care, Ontario

Galand, Lucye
Scientific Assessment Unit # 1
Marketed Pharmaceuticals and Medical Devices Bureau
Health Canada

Griffiths, Jenna
Therapeutic Effectiveness and Policy Bureau
Health Canada

Hall, Frances
Office of Pharmaceuticals Management Strategies
Health Canada

Hallett, David
DSEN Knowledge Synthesis Research Unit (KSRU)
McMaster University

Henry, David
Canadian Network for Observational Drug Effect Studies (CNODES)
Institute for Clinical Evaluative Sciences

Hutton, Brian
DSEN Network Meta-Analysis team (NETMAN)
Ottawa Hospital Research Institute

Irfan, Nashwa
Marketed Pharmaceuticals and Medical Devices Bureau
Health Canada

Kelly, Shannon
Team for Network Meta-Analysis (TNMA)
University of Ottawa Heart Institute

Kim, Richard
Pharmacogenomics of Adverse Events National Team (PREVENT)
University of Western Ontario

Koester, Olaf
Drug Management Policy
Manitoba Health

Legan, Robin
Pharmacogenomics of Adverse Events National Team (PREVENT)
University of Western Ontario

Liteplo, Robert
Therapeutic Effectiveness and Policy Bureau
Health Canada

Ma, Janice
Drug Use
National Defence

Maher, Maurica
Team for Network Meta-Analysis (TNMA)
University of Ottawa

McPhee, Judy
Pharmaceutical Services
Nova Scotia Department of Health

Mizrahi, Corine
Canadian Network for Observational Drug Effect Studies (CNODES)
McGill University

Njie, Barbara
Science Regulatory Office of Paediatric initiatives
Health Canada

Palmer, Rockie
National Pharmacy Officer
Veterans Affairs Canada

Paterson, Michael
Chronic Disease and Pharmacotherapy Research Program
Institute for Clinical Evaluative Sciences

Peterson, Robert
Drug Safety and Effectiveness Network (DSEN)
Canadian Institutes of Health Research

Pierce, Susan
Benefit Management Division
Health Canada

Ross, Colin
Pharmacogenomics of Adverse Events National Team (PREVENT)
University of British Columbia

Sehgal, Chandler
Canadian Agency for Drugs and Technologies in Health

Steiner, Sabine
Team for Network Meta-Analysis (TNMA)
Medical University of Vienna

Straus, Sharon
DSEN Knowledge Synthesis Research Unit (KSRU)
McMaster University

Suissa, Samy
Canadian Network for Observational Drug Effect Studies (CNODES)
McGill University

Sullivan, Shannon
Team for Network Meta-Analysis (TNMA)
University of Toronto

Tadrous, Mina
Drug Safety and Effectiveness Cross-Disciplinary Training (DSECT) Program
University of Toronto

Tricco, Andrea
DSEN Knowledge Synthesis Research Unit (KSRU)
University of Toronto

Van Gaalen, Rolina
CAnadian Network for Advanced Interdisciplinary Methods for Comparative Effectiveness Research (CAN-AIM).
McGill University

Waltin-James, Jerieta
Centre for Evaluation of Radiopharmaceuticals and Biotherapeutics
Health Canada

Widdifield, Jessica
CAnadian Network for Advanced Interdisciplinary Methods for Comparative Effectiveness Research (CAN-AIM)
University of Toronto

Wilkinson, Bryan
DSEN active Surveillance and Evaluation of Adverse Reactions in Canadian Healthcare team (SEARCH)
University of British Columbia

Yasari, Siham
Drug Safety and Effectiveness Network (DSEN)
Canadian Institutes of Health Research
---
Appendix 3: DSEN Organizational Chart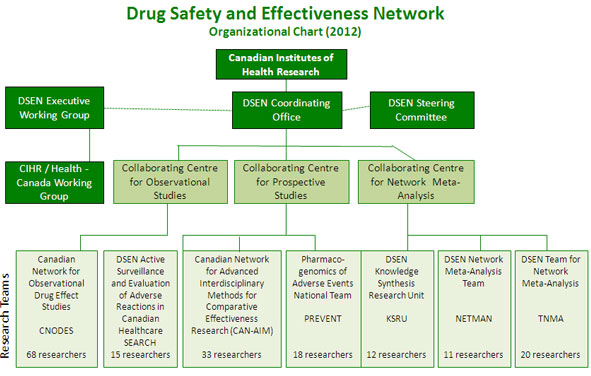 Date modified: