CIHR Annual Report 2011–12: The Measure of Success
President's Message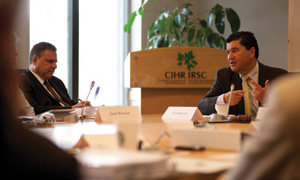 Photo: Dr. Elias Zerhouni (right), Chair of the 2011 International Review Panel (IRP), and CIHR President Dr. Alain Beaudet (left) discuss the findings and recommendations of the IRP at a meeting of CIHR's Governing Council.
There are many different ways of defining, measuring and tracking success. In research, the complexity of projects and resulting long timelines make it difficult to trace a clear path from the first spark of an idea to the production of knowledge. Even then, it can still take years for such knowledge to reach full application in the form of a new commercialized product or new practice guidelines, to give but two examples.
The Canadian Institutes of Health Research (CIHR) takes the measurement of success seriously. In 2009–10, we released our five-year strategic plan, Health Research Roadmap. Since that time, we have issued annual Roadmap implementation reports that have evaluated our progress towards goals established by the organization. These reports evaluate our success in implementing our strategic plan and help address core questions pertinent to CIHR: Are we making the best possible investments and creating the optimal conditions for the production and translation of world-class research?
In the past year, our ongoing efforts to measure success took on an added dimension. During 2011–12, CIHR hosted the prestigious International Review Panel (IRP), led by Dr. Elias Zerhouni, former Director of the U.S. National Institutes of Health. As set out in CIHR's legislation, the IRP conducted detailed reviews of the outputs of each of CIHR's 13 Institutes, as well as a review of CIHR as a whole. The main question to be answered by the IRP was: Is CIHR truly delivering on its mission and mandate?
Overall, the IRP noted our clear progress in meeting the mandate given to CIHR by Parliament. It also produced thoughtful, considered observations as to how we should be moving forward. Many of these recommendations align closely with directions outlined in Roadmap. In the present annual report, we highlight through a few examples how CIHR actions relative to the implementation of its strategic plan link to the recommendations of the IRP.

Alain Beaudet, MD, PhD
President
Canadian Institutes of Health Research
Date modified: