Moving Forward – CIHR Performance Across the Spectrum: From Research Investments to Knowledge Translation
Table of Contents
---
Knowledge Creation
Collaboration Increases the Value of Knowledge Creation
Impact of Collaborations with Canada 1985-2008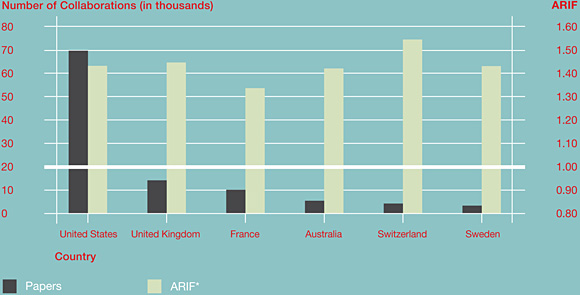 * Average Relative Impact Factor (ARIF) is an indicator of the quality of journals in which results are published.
Research – An International Pursuit
Foreign Collaborations: Percentage of Papers from Each Country with Co-authors from Another Country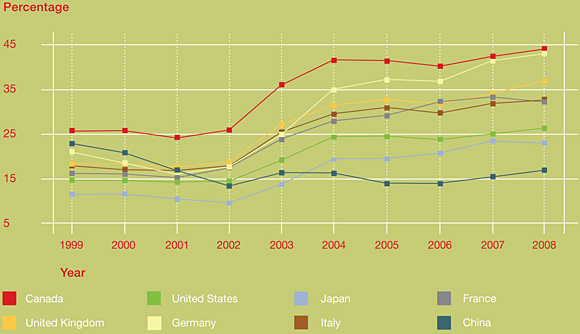 Canada – Among the World's Best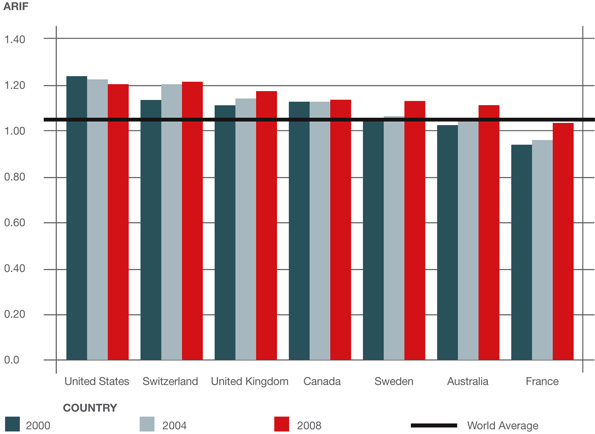 ARIF = Average Relative Impact Factor
Research Investment
Four Key Themes for Improved Health
Spending by theme

Biomedical: $475 million (up from $161 million in 2000-01)
Clinical: $129 million (up from $27 million in 2000-01)
Health systems/services: $58 million (up from $5 million in 2000-01)
Social/cultural/environmental/population health: $91 million (up from $9 million in 2000-01)
CIHR – Reach and Impact Across Canada
Regional Institutions with CIHR-funded Health Researchers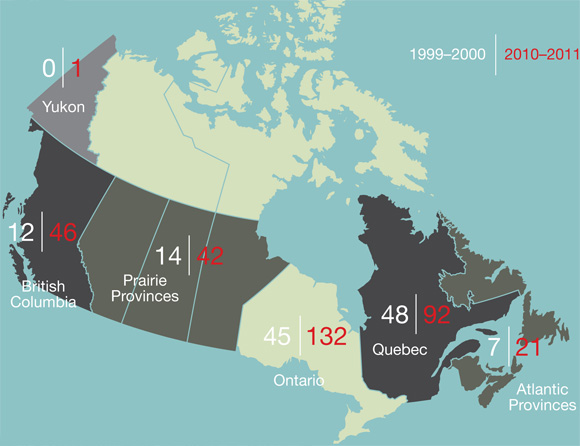 CIHR Expenditures by Region (in millions of dollars) 1999-2000 / 2010-11
| | 1999-2000 | 2010-2011 |
| --- | --- | --- |
| British Columbia | $25 | $125 |
| Prairie Provinces | $48 | $98 |
| Ontario | $114 | $350 |
| Quebec | $88 | $241 |
| Atlantic Provinces | $9 | $29 |
Excludes Direct Payments. Excludes Operating Expenditures and Partner Contributions. Source: CIHR funding database.
Balanced Research Investment on Behalf of Canada
Funding by Program Type 1999-2000 / 2010-11
Including CRC, CECR, and NCE (in millions of dollars)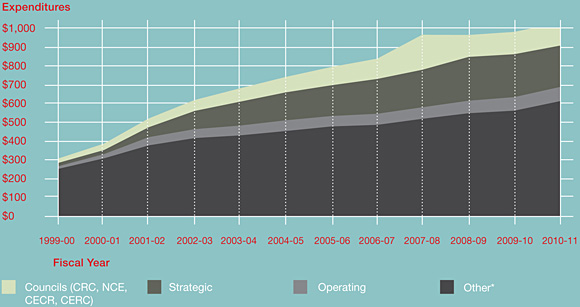 * Other includes: Open Competitions, Ethics, and Knowledge Synthesis and Exchange.
Steady Increase in Funds Invested
Average Grant Amount 1999-2000 / 2009-10
Open Operating Grant Program (in thousands)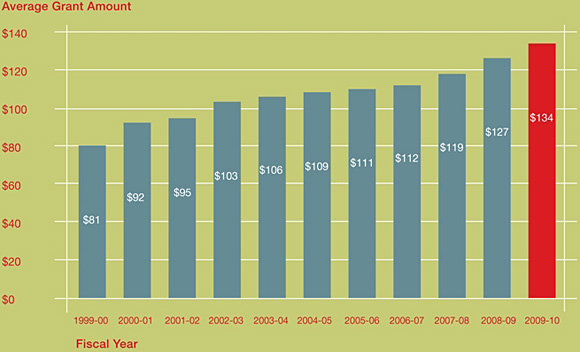 * Average amounts based on the average funding for the first fiscal year of grants awarded (at the time the results are adjudicated by Research and Knowledge Translation Committee / Scientific Council).
Increasing Size, Scope and Complexity of Funded Research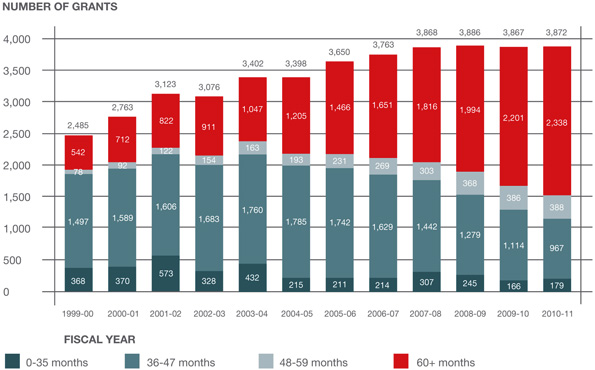 Global Health – Many Partners, Many Investments
Canadian HIV Vaccine Initiative
CIHR/CIDA Large Team Grant – $17 million
Global Alliance for Chronic Disease
Canadian commitment of $5 million
CIHR investment of $2.5 million
$22 million total research budget
Global Health Research Initiative
$22 million invested by 2015
Grand Challenges in Global Health Initiative
CIHR investment of $5.65 million
$458 million total research budget
International Research Initiative on Adaptation to Climate Change
CIHR investment of up to $3 million
Canada-HOPE Scholarship Program
CIHR investment of $1.7 million, matching grant from Sanofi-Aventis
Investment Priority – Global Health Research Initiative
$71M invested by all partners for approved research programs (2001–15)
10+ research programs (such as Teasdale-Corti) funded since 2001
129 research projects funded
1,000+ research networks established (including 257 Canadian researchers)
62 Canadian research institutions and universities participating
67 countries involved
339 research settings in Canada, Africa, Asia, the Middle East, Latin America and the Caribbean
Investment Priority – Drug Safety and Effectiveness
2009 - Government of Canada announces funding for Drug Safety and Effectiveness Network (DSEN)
$32M over first five years
$10M annually in subsequent funding
14 one-year "Catalyst" research projects launched
$1.3M investment in Catalyst projects
Investment Priority – Combatting the Rising Tide of Dementia
2010 - Collaborative research agreement: CIHR, the German Centre of Neurodegenerative Diseases and UK Medical Research Council
$8M for collaborative research projects: partners in United Kingdom, Germany, Belgium and Italy
$1.6M CIHR share of the investment
$1.5M Phase II of Alzheimer's Disease Neuroimaging Initiative
$5M France-Quebec-Canada collaboration
$1.4M CIHR share of the investment
Partnership and Collaboration
CIHR – A Partner to Many, Helped by Many
279 - Number of partners in 2010-11
47 Academic
45 International
9 Private
117 Volunteer
61 Public
Initial Investment Has Leverage
Cumulative Total Funds Directly Leveraged by CIHR Investments Since 2005-06 (in millions of dollars)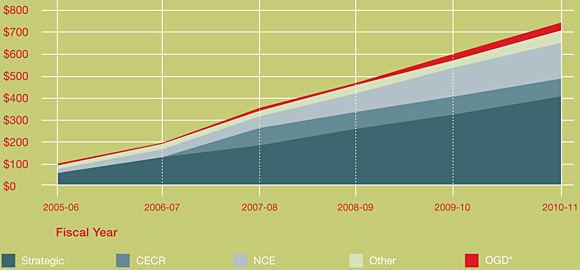 * The "other government department (OGD) partner contributions" are contributions from federal government departments/agencies and are included in CIHR's expenditure budget. The OGD contributions are transferred to CIHR's appropriation through Annual Reference Level Update (ARLU) and the Supplementary Estimates processes.
Partner Contributions on flow-through fund programs (Networks of Centres of Excellence, Centres of Excellence for Commercialization and Research) are not leveraged funds.
Canada-China Partnership Agreements Have Produced Results
89 Canada–China joint health research projects funded since 2005 which will result in a total of almost $11 million in CIHR investment
6 Canada–China collaborative teams in health research funded during 2010–11,for a total of $2.9 million in CIHR investment
150+ journal articles published by Canadian and Chinese researchers during 2005–11, arising from collaboratively funded projects
International Investments Going Up
International expenditures have grown twofold, from 5.5% to 10% of the total CIHR budget since 2000.
Approximately 3,300 grants and awards with international linkages have been funded.
Research Talent
Over 14,000 Important Stories to Tell
14,139 - Number of researchers / trainees supported in 2010–11
An International Track Record of Success
2005 Lasker Award for Basic Medical Research
James Edgar Till and Ernest Armstrong McCulloch, Ontario Cancer Institute
2008 Kyoto Prize in Basic Sciences
Anthony Pawson, the Samuel Lunenfeld Research Institute
Gairdner International and Wightman Award Recipients
2011 – Michael Hayden, University of British Columbia
2010 – Calvin Stiller, University of Western Ontario/ Ontario Cancer Research Institute
2009 – David Sackett, McMaster University
2008 – Alan Bernstein, Global HIV Vaccine Enterprise
2008 – Samuel Weiss, University of Calgary
2008 – Nahum Sonenberg, McGill University
2006 – Allan R. Ronald
2005 – Endel Tulving, Rotman Research Institute of Baycrest Centre, Toronto
2005 – Brenda Milner, McGill University
2001 – Henry Friesen, University of Manitoba
2000 – Jack Hirsh, McMaster University
Addressing the Unique Needs of Postdocs
750 new and existing CIHR postdoctoral fellowships supported through direct awards
1,200 postdoctoral fellowships supported indirectly, through grants
170 postdoctoral fellowships to be awarded in 2011–12, up from the previous level of 140
658 eligible applications received in 2010 for 70 Banting Postdoctoral Fellowships awards
$21M budgeted for postdoctoral fellowships over five years in 2010–11, up from $12 million in 2007–08
Knowledge Translation
Open Access Facilitates Knowledge Translation
801 submissions to PubMed Central (PMC) Canada
312 submissions published on PMC Canada
169 links to CIHR grants in PMC Canada
1,318,198 downloads
196,961 unique visits (from individual IP addresses)
Systematic Review – A Key Tool for Knowledge Translation
10 - percentage of the Cochrane Library's 4,432 reviews contributed by Canadian groups
18 Cochrane-connected regional sites at Canadian universities, and 1 regional authority
26 partner organizations across Canada
2,300 - number of Canadians actively involved
3,869 - number of accesses of the full text of Cochrane Musculoskeletal Group's review Glucosamine therapy for treating osteoarthritis in 2009
Knowledge Users Want the Best Brains
May 2010, Fredericton
October 2010, Regina
Developing and Implementing a Framework for Patient and Family-Centred Care
February 2011, Ottawa
Health Science and Research in Canada's Arctic – Building the Evidence Base
March 2011, Ottawa
Health Inequalities, Health Policy and the Social Determinants of Health of First Nations Communities
March 2011, Halifax
Governance Models to Support an Integrated System of Care for Mental Health and Addictions Services
Date modified: