The Drug Safety and Effectiveness Network (DSEN) - Powerpoint Presentation
Summary Table:
[ Slide 1 ]
Overview: DSEN SC Inaugural Meeting
September 17, 2010
Robert G Peterson MD, PhD, MPH
Executive Director
Drug Safety and Effectiveness Network
Canadian Institutes of Health Research
[ Slide 2 ]
The Drug Safety and Effectiveness Network — Background
Evolution of knowledge about medicines demands that governments and other decision-makers seek additional evidence about the balance of benefit and risk throughout the product life cycle
More information is needed on safety and effectiveness of pharmaceuticals when used by diverse patient populations outside the controlled experimental environment of clinical trials
New evidence generated via the DSEN to provide decision-makers with an important additional source of information about drug products' safety risks relative to their therapeutic benefits. Evidence to support decision-making on public reimbursement, and safe and optimal prescribing and use of drugs within Canada
[ Slide 3 ]
The Drug Safety and Effectiveness Network — Background
2004 First Ministers Health Accord "10-year plan" … Strengthening evaluation of real-world drug safety and effectiveness (RWSE) included as one of the priority elements in the National Pharmaceuticals Strategy (NPS)
DSEN included in the Government of Canada's Food and Consumer Safety Action Plan (December 2007) to support product life-cycle approach to drug regulation by providing additional evidence for use in ongoing risk-benefit assessment and additional tool for surveillance
Government investing a total of $32 million over 5 years and $10 million per year ongoing to establish the DSEN, through a partnership of CIHR and Health Canada
[ Slide 4 ]
Scope
Funding linking centres across Canada on two primary research directions:
Drug Safety

Observational or epidemiologic studies using administrative data shared through statistical query mechanisms
Active surveillance, early detection, safety signals (prospective assessments through funded centres and projects)

Comparative Effectiveness

Queries: arising from multiple sources (regulators, health technology assessments, medical and research communities, funding decisions)
Methodologies: retrospective and prospective, direct and indirect comparisons, novel RCTs, meta-analysis
[ Slide 5 ]
Public Policy Objectives for the DSEN
Contribute to improved system efficiency to support accessible and sustainable health system decisions responsive to the health needs of Canadians
Promote safe and effective use of pharmaceuticals by filling gaps in knowledge required to make effective, evidence-based decisions about drugs at different points throughout the regulatory and health care system including post-market surveillance; reimbursement; prescribing, utilization
Increase capacity within Canada to undertake high quality post-market studies of real world safety and effectiveness to support increased availability of needed evidence
Leverage greater value from existing investments in post-market research within Canada by:

Building on what already exists
Improving coordination of research efforts, both nationally and internationally
Promoting greater collaboration
[ Slide 6 ]
Three Key Components of DSEN
DSEN Steering Committee (DSEN SC):

will provide strategic direction to the DSEN and set priorities for needed research through the development of a prioritzed research agenda.

DSEN Coordinating Office (DSEN CO):

established under CIHR and will serve as the hub of the Network, working openly and collaboratively to fulfill the DSEN obligations under the FCSAP.

DSEN Collaborating Centres (DSEN CCs):

will form a coordinated national network of researchers in post-market drug safety and effectiveness committed to the highest excellence in research thereby creating a dedicated research capacity for the DSEN program
[ Slide 7 ]
DSEN Query Process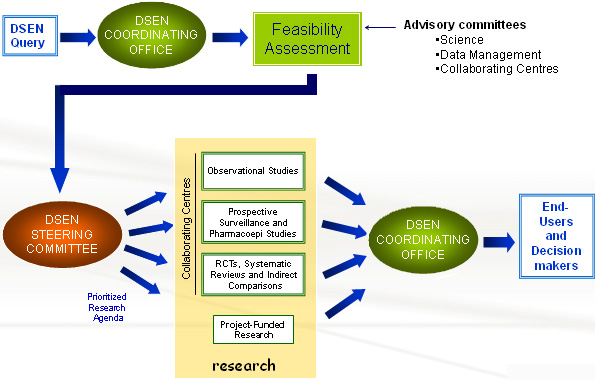 [ Slide 8 ]
DSEN Collaborating Centres
CC's will maintain:

Autonomy as individual(s) and organizations
Accountability for use of funds received
Rights to publication of results

Key activities being undertaken by the Collaborating Centers

Research
Capacity development/Training
Networking
Knowledge translation
[ Slide 9 ]
DSEN Collaborating Centres — Key activities
1. Research
Engage in a program of research that responds to the DSEN research priorities determined by the Steering Committee.
Collaborate with the DSEN Coordinating Office and relevant experts to formulate and refine research questions that address priorities on the research agenda.
Propose research protocols for conduct across the Collaborating Centre that respond to the questions on the prioritized research agenda.
Work together, sharing methodologies, knowledge and access to data in order to produce timely research results to the prioritized research questions and to allow for enhanced research responses through access to data from widely distributed and varied populations.
[ Slide 10 ]
DSEN Collaborating Centres — Key activities
2. Capacity Development
Contribute to capacity development in drug safety and effectiveness research through the support, mentoring and training of trainees and researchers (at various career stages).
Demonstrate a dedication to capacity building through the development, sharing and exchange of knowledge, data and methods. It is expected that methodologies, tools, data sources and resources will be linked and/or enhanced thereby increasing the capacity to undertake research in this area as a result of the collaborative research conducted at the CCs.
Research Leaders must be at an appropriate career stage to demonstrate significant impact in capacity development for drug safety and effectiveness research, and demonstrate strong mentoring and training skills and contribute to the capacity development component of the CC.
[ Slide 11 ]
DSEN Collaborating Centres — Key activities
3. Networking
Collaborate, as required, with existing national and international centres specializing in drug safety and effectiveness research in responding to questions on the DSEN prioritized research agenda.
Contribute to the development of strategies for knowledge translation and continue to participate in KT activities supported through existing and established methods and channels (e.g. publications, professional colloquia, scientific meetings)
Participate as members of the DSEN Collaborating Centres Advisory Committee to facilitate the convivial operation of the network
[ Slide 12 ]
DSEN Collaborating Centres — Key activities
4. Knowledge Translation
Participate in regular interactions with the DSEN SC, the DSEN Coordinating Office and the others CCs in order to bring researchers and research-users together to align the research conducted with the identified information gaps and promote its dissemination to relevant user groups
Report research findings to the Steering Committee through the DSEN Coordinating Office upon completion of projects.
Participate in an annual DSEN KT forum, to disseminate DSEN research results and to provide opportunities for discussions between DSEN researchers, decision makers and relevant stakeholders.
[ Slide 13 ]
Relevant research areas
Analyze, link, and develop electronic health data for research.

creation, linkage, and analysis of drug, disease, or therapeutic registries;
development of electronic surveillance systems to identify adverse medical reactions and sentinel events;
integration of clinically rich data into existing administrative data to enable studies of effectiveness through infrastructure building.

Perform retrospective analytical studies to inform and support research as well as research prioritization and decision-making.

analyzing administrative data collected as part of coverage with evidence development; database analyses to compare health outcomes related to comparative drug intervention;
studies to identify the benefits and harms of prescription medication;
genetic studies to ascertain potential benefits of genetic tests in reducing adverse events or improving efficacy of therapeutic interventions.

Develop and apply new research methods and instruments.

developing analytic techniques to reduce bias and confounding in observational data;
statistical research to advance the scientific use of disease registries, clinical repositories and health databases;
[ Slide 14 ]
Thank you
Robert G Peterson — Executive Director
Diane Forbes — Associate Director
Gary Condran — Associate Director, Strategic Operations
Christian Brochu — Project Manager
Siham Yasari — Project Officer
Joane Delage — Project Officer
Canadian Institutes of Health Research
160 Elgin Street, 9th Floor
Address Locator 4809A
Ottawa, ON, K1A 0W9
Canada
More information on the DSEN is available on the CIHR website.
Date modified: