CIHR 2011 International Review - Members of the International Review Panel (IRP)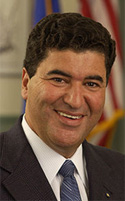 Chair - Dr. Elias Zerhouni
President, Global Research & Development (Medicines and Vaccines), Sanofi-Aventis
Senior Adviser Johns Hopkins Medicine
Former Director, US National Institutes of Health
Member, Scientific Advisory Committee for Global Health Discovery

Dr. Zerhouni has spent much of his career providing clinical, scientific, and administrative leadership. Dr. Zerhouni was the 15th Director of the US National Institutes of Health, the largest biomedical research and development agency in the world with more than 27,000 employees and a yearly budget of $29.5 billion. He led a series of reforms at the NIH that led to the successful passage of the NIH reform Act of 2006 by the US Congress.

Prior to joining the NIH, Dr. Zerhouni served as Vice Dean for Research and then Executive Vice-Dean of the Johns Hopkins University School of Medicine and chair of the Russell H. Morgan Department of Radiology and Radiological Science from 1995 to 2002.

His research focused on developing novel quantitative imaging methods for Computerized Axial Tomography (CAT scanning) and Magnetic Resonance Imaging (MRI) used for diagnosing cancer, cardiovascular and pulmonary disease. He is the author of 212 publications and holds several patents and founded or co-founded 5 start up companies.

Dr. Zerhouni has been elected to the boards of the Lasker Foundation, Research America, the Mayo Clinic, the King Abdullah University of Science and Technology and serves as chair of the Maryland Economic Development Commission. He is the Science and Technology Adviser for Sanofi-Aventis, a global pharmaceutical company, and Chief Scientific Advisor of Science-Translational Medicine a sister publication of the journal Science.

Dr. Zerhouni was elected to the Institute of Medicine of the US National Academy of Sciences in 2000.
---

Professor Rudi Balling
Director
Luxembourg Centre for Systems Biomedicine
University of Luxembourg
Rudi Balling has studied human and animal nutrition at the University of Bonn, Germany and Washington State University, Pullman, USA. He received his PhD in reproductive biology from the University of Aachen. Between 1985 and 1987 he was a postdoctoral fellow in the Mount Sinai Research Hospital in Toronto, Canada and from 1987 to 1993 he carried out research as a staff scientist at the Max Planck Institutes in Göttingen and Freiburg. In 1993 he became Director of the Institute of Mammalian Genetics at the Helmholtz Center of Environment and Health in Munich. In 2001 he took over the position as Scientific Director of the Helmholtz Center of Infection Research in Braunschweig. After a sabbatical at the Broad Institute of MIT in Boston, Rudi Balling joined the University of Luxembourg, in September 2009 to become the founding Director of the Luxembourg Centre for Systems Biomedicine.
---

Professor Sir John Bell
Regius Professor of Medicine at Oxford University
President of the Academy of Medical Sciences
UK
Sir John Bell undertook his medical training in the UK and at Stanford University, returning to the UK in 1987. His research interests are in the area of autoimmune disease and immunology where he has contributed to the understanding of immune activation in a range of autoimmune diseases. In 1993, he founded the Wellcome Trust Centre for Human Genetics, one of the world's leading centres for complex trait common disease genetics. Sir John was responsible for the working party that produced the highly influential Academy of Medical Sciences "Strengthening Clinical Research" report that highlighted the need for the UK to focus some of its attention on developing expertise in translational research. In January 2007, he became the first Chairman of the Office for the Strategic Coordination of Health Research.
---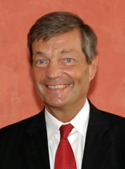 Professor Christian Bréchot
Vice-President – Medical and Scientific Affairs
Institut-Mérieux
France
Christian Bréchot holds MD PhD degrees. Beginning in 1981 he studied molecular biology, virology, and cellular biology at the laboratory of Pierre Tiollais at the Pasteur Institute, and at the Necker Faculty of Medicine; he obtained his PhD in biochemistry from the University of Paris VII in 1985. In 1989 he became full professor of Cell Biology and Hepatology, and in 1997 he was appointed head of the clinical department of liver diseases at the Necker-Enfants Malades Hospital. He has been in charge of a research unit at the Necker Faculty of Medicine, jointly supported by Inserm (the French national biomedical research agency), Paris Descartes University, and the Pasteur Institute; he was also head of the National Reference Centre on viral hepatitis from 1998 to 2001.
From 2001 to 2007, Christian Bréchot has acted as General Director of Inserm, the French National Agency for biomedical research.
From 2008, he has been appointed as Vice-president in charge of Medical and Scientific affairs of the Institut-Mérieux company. Institut-Merieux is a holding company which merges the efforts of four companies involved in in vitro diagnostics, preventive and therapeutic vaccines, as well as food safety (Biomérieux, Transgene, Silliker, Advanced Bioscience Laboratory).
---

Dr. Marie-Francoise Chesselet
Charles H. Markham Professor of Neurology
Chair of the Department of Neurobiology
David Geffen School of Medicine
University of California Los Angeles, USA
Marie-Françoise Chesselet, MD, PhD, is the Charles H. Markham Professor of Neurology and the Chair of the Department of Neurobiology in the David Geffen School of Medicine at UCLA. She received her MD and PhD degrees from the University of Paris VI, France, where she completed her PhD thesis in the laboratory of Jacques Glowinski and became a Charge de Recherches at the CNRS, the National French Research Agency. She was a Visiting Scientist in the laboratories of Ann Graybiel at MIT and of Michael Bronstein at the NIH before joining the Faculty of the Medical College of Pennsylvania and then the University of Pennsylvania. In 1996, she moved to UCLA were she directs the APDA Advanced Center for Parkinson's Disease Research, the NINDS-funded UCLA Morris K. Udall Center of Excellence for Parkinson's Disease Research and the NIEHS-funded Center for Gene Environment in Parkinson's Disease. Her laboratory conducts research on the molecular mechanisms of disorders of the basal ganglia and new treatments for Parkinson's disease and Huntington's disease.
---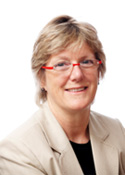 Dame Sally Davies
Chief Medical Officer and Chief Scientific Adviser
Department of Health, National Health Service, UK
Dame Sally Davies is Chief Medical Officer and Chief Scientific Adviser for the Department of Health in the UK and leads research for the National Health Service. Until recently she was Director General of Research and Development and developed the new government research strategy, Best Research for Best Health with a budget rising to £1 billion, and was responsible for embedding the National Institute for Health Research (NIHR). She also chairs the UK Clinical Research Collaboration (UKCRC) and is a member of the Board of the Office for Strategic Co-ordination of Health Research (OSCHR) and of the Medical Research Council. She was a member of the steering group for the Biotechnology Innovation and Growth Team, chaired by Sir David Cooksey and its "Refresh", the Health Care Industry Task Force and is a member of the UK Health Innovation Council. She is a member of the WHO Global Advisory Committee on Health Research (ACHR) and chaired the Expert Advisory Committee for the development of the WHO research strategy, submitted as a resolution to the World Health Assembly 2009. She is a member of the International Advisory Committee for A*STAR, Singapore and had advised many others on research strategy and evaluation including the Australian NHMRC.
---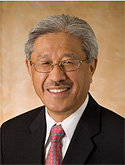 Professor Victor Dzau
Chancellor for Health Affairs, Duke University
President and CEO, Duke University Health System
James B. Duke Professor of Medicine
Durham, NC USA
Dr. Dzau has made a significant impact on medicine through his seminal research targeting renin angiotensin for cardiovascular therapy, his pioneering work in gene therapy, and recently his leadership in Healthcare Strategy and Innovation. He has received many honors including the Gustav Nylin Medal from the Swedish Royal College of Medicine, the Max Delbruck Medal of Berlin, the Polzer Prize from the European Society of Sciences and Arts and the Distinguished Scientist Award of the American Heart Association. Dr. Dzau has served on the Executive Committee of The Academy at Harvard Medical School, the Boards of Directors of Stanford Health System, Partners Healthcare System and the Council of the National Institute of Health. Currently he is member of the Governing Board of the Duke-National University of Singapore Graduate Medical School, the Board of Directors of the Association of Academic Health Centers and the Council of the of the National Academy of Sciences' Institute of Medicine. He is also a Healthcare Governor of the World Economic Forum, Davos and serves on its Global Agenda Council. Previously, he served as the Arthur Bloomfield Professor and Chairman of Medicine at Stanford University, and most recently as the Hersey Professor of Theory and Practice of Medicine and Chairman of Medicine at Harvard Medical School.
---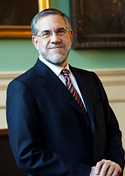 Dr. Steven E Hyman
Provost of Harvard University,
Professor of Neurobiology, Harvard Medical School
Boston MA, USA
Dr. Hyman served as Director of the National Institute of Mental Health (NIMH), the component of the US National Institutes of Health charged with generating the knowledge needed to understand and treat mental illness. Before serving as Director of NIMH, Dr. Hyman was Professor of Psychiatry at Harvard Medical School, Director of Psychiatry Research at Massachusetts General Hospital, and the first faculty Director of Harvard University's Mind, Brain, and Behavior Initiative. In the laboratory he studied the regulation of gene expression by neurotransmitters, especially dopamine, and drugs that act on dopamine receptors. Dr. Hyman is a member of the Institute of Medicine of the National Academy of Sciences, a Fellow of the American Academy of Arts and Sciences, and a Fellow of the American College of Neuropsychopharmacology. He is Editor of the Annual Review of Neuroscience and first President of the Neuroethics Society. He received his BA from Yale College in 1974 summa cum laude, and his MA from the University of Cambridge in 1976, which he attended as a Mellon fellow studying the history and philosophy of science. He earned his MD from Harvard Medical School in 1980 cum laude.
---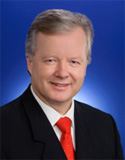 Dr. Jan Lundberg
Executive Vice-President Science and Technology,
President of Lilly Research Laboratories
Indianapolis IN USA
Dr. Lundberg joined Eli Lilly and Company on January 4, 2010, with responsibility for Research and the Development Center of Excellence at Lilly. Prior to assuming his position at Lilly, Dr. Lundberg served as Global Head of Discovery Research at AstraZeneca for ten years. He was involved with numerous candidate drug nominations, development projects and support for marketed products. After his medical education and receiving his PhD, Dr. Lundberg served as Professor at the Department of Pharmacology, Karolinska Institute, Stockholm, Sweden. Dr. Lundberg has authored over 500 publications of original articles in international peer-reviewed journals and is highly cited by the Institute for Scientific Information (ISI) in Neuroscience, Pharmacology, Biology and Biochemistry. He has given more than 100 invited lectures at international conferences in the areas of cell signaling in integrated systems. This research has been highly recognized and has received several awards including, Royal Swedish Scientific Academy; Anders Jahres Scandinavian Award and Erik Fernström Award.
---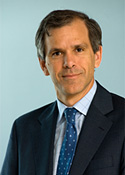 Dr. Chris Murray
Director, Institute for Health Metrics and Evaluation
Professor of Global Health, University of Washington
Seattle WA USA
Christopher J.L. Murray is the Institute Director of the Institute for Health Metrics and Evaluation (IHME) and Professor of Global Health at the University of Washington. A physician and health economist, his work has led to the development of a range of new methods and empirical studies to strengthen the basis for population health measurement, measure the performance of public health and medical care systems, and assess the cost-effectiveness of health technologies. The IHME is focused on the challenges of measurement and evaluation in the areas of health outcomes, health services, financial and human resources, evaluations of policies, programs and systems, and decision analytics. Dr. Murray's early work focused on tuberculosis control and the development with Dr. Alan Lopez of the Global Burden of Disease methods and applications. Dr. Murray has authored or edited fourteen books, many book chapters and more than 130 journal articles in internationally peer-reviewed publications. He holds a BA from Harvard College, a DPhil from Oxford University and an MD from Harvard Medical School.
---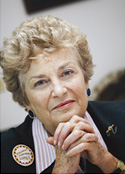 Professor Fiona Stanley
Director, Telethon Institute for Child Health Research
Chair, Australian Research Alliance for Children and Youth
Professor, School of Paediatrics and Child Health
University of Western Australia
Perth, Australia
Professor Stanley is the Founding Director of the Telethon Institute for Child Health Research; Chair of the Australian Research Alliance for Children and Youth; and Professor, School of Paediatrics and Child Health at the University of Western Australia. Trained in maternal and child health epidemiology and public health, Professor Stanley has spent her career researching the causes of major childhood illnesses such as birth defects. Her research includes the gathering and analysis of population data for epidemiological and public health research; the causes and prevention of birth defects and major neurological disorders, particularly the cerebral palsies; patterns of maternal and child health in Aboriginal and Caucasian populations; various ways of determining the developmental origins of health and disease; collaborations to link research, policy and practice; and strategies to enhance health and well-being in populations. Her major contribution has been to establish the Telethon Institute for Child Health Research, a unique multidisciplinary independent research institute focusing on the causes and prevention of major problems affecting children and youth. She sits on the Prime Minister's Science, Engineering and Innovation Council as well as the Australian Social Inclusion Board and the Indigenous Implementation Board. For her research on behalf of Australia's children, she was named Australian of the Year in 2003 and in 2006 she was made a UNICEF Australia Ambassador for Early Childhood Development.
Date modified: