The CIHR 2009 Partnership Award Winners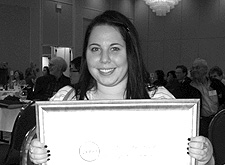 Marielle Bassel from the Canadian
Scleroderma Research Group
The Scleroderma Society of Canada (SSC) and The Canadian Scleroderma Research Group (CSRG) share an important priority: improving the quality of life of patients with scleroderma through promoting awareness, support and research for a cure. The SSC is a "grass roots" organization, founded in 1999 and is now a successful foundation. Marion Pacy, President of SSC, was diagnosed with scleroderma in 1992; since then, she has worked studiously with scleroderma patients' groups in every Canadian province to achieve SSC's mission. She also works with the Lupus Society of Manitoba and the Arthritis Advocacy Committee. In 2003, a group of seventeen rheumatologists from across Canada, under the direction of Dr. Murray Baron, came together and acknowledged the need to unite to better treat patients with scleroderma and train new scientists in relevant scleroderma research, resulting in the formation of the CSRG in 2004 (thanks to a start up grant from CIHR) and the beginning of successful collaborations between SSC and CSRG.
The SSC/CSRG partnership is unique in scope and truly embodies the values of the CIHR Partnership Award in a number of ways. Theirs is a relationship of mutual trust, respect, and commitment, with open communication and authentic knowledge exchange among important stakeholders (namely the scientific and lay communities, and policy makers). The SSC/CSRG has been highly successful at securing funding from various agencies, and in a relatively short time has secured more than $4 million in grant funding for ongoing projects, which has led to numerous publications and has helped develop opportunities for new trainees. They have developed links with the Scleroderma Society of Ontario, Sclérodermie Québec, and all other SSC provincial Chapters in order to involve patients in determining priorities and disseminating knowledge. This is a partnership truly deserving of the Partnership Award, as it promises to lead to great impact for Canadians.
Together, the SSC and CSRG have collaborated on a number of important and successful fundraising endeavours and large scale projects. The strength of their teamwork is particularly evident in their joint annual conferences, which facilitate interaction between patients and researchers (resulting in tangible benefits for both) and the advancement of health research. In March 2004, CSRG received a grant from CIHR to create a comprehensive patient registry, which contains over 2,000 biological, clinical, and psychological variables on over 1,000 Canadians with scleroderma. This registry is the largest and most complete scleroderma database of its type in the world, and the CSRG is likely the world's largest research program in the field of quality of life in scleroderma. The richness of this database provides SSC with a powerful tool, enabling them to demonstrate the disproportionate burden of disease borne by patients with scleroderma to policy-makers and other health agencies responsible for health resource allocation.
Scleroderma, derived from the Greek words "sclerosis" meaning hardness and "derma" meaning skin, literally means "hard skin" and reflects the disfigurement experienced in scleroderma due to increased over-production of collagen. The excess collagen causes thickening, hardening and scarring of the skin and other organs, most commonly the gastrointestinal tract, lungs, kidneys and heart. Normally, collagen keeps the skin soft, but the overproduction makes the affected tissue thick and hard. This, in turn, affects the amount of blood the small vessels carry to many parts of the body.
At this time there is no cure for scleroderma, which has terrible consequences, including high levels of disability, morbidity and mortality. Research to find a cure for scleroderma, as well as ways to improve quality of life for individuals living with the disease, is of tremendous importance. Until recently, however, little has been done in Canada to address problems faced by individuals with scleroderma. The SSC/CSRG partnership formed to change that.
The CIHR Partnership Award recognizes partnerships with one or more external partners from the private, voluntary or public sectors which exemplify excellence by bringing health research communities together to create innovative approaches to research questions; to develop research agendas that are responsive to the health needs, concerns and priorities of Canadians; and to accelerate the translation of knowledge for the benefit of Canadians.
Date modified: