Evaluation context
Midterm Evaluation of the Pandemic Preparedness Strategic Research Initiative
[ Table of Contents ]
1.1 Evaluation purpose
In 2006, the Canadian Institutes of Health Research Institute of Infection and Immunity (CIHR-III) was charged with developing and supporting pandemic influenza preparedness research programs. Its Pandemic Preparedness Strategic Research Initiative (PPSRI), with resources of $21.5 million over five years (2006/07-2011/12), supports research intended to improve Canada's ability to prevent and/or respond to an influenza pandemic.
This document presents the findings of a formative, midterm evaluation of the PPSRI. The aim of the midterm evaluation was to assess the overall design and implementation of the Initiative. It is intended that the results be used to inform future developments in the PPSRI, as well as similar strategic initiatives to be undertaken by III.
The evaluation process has been supported by a Midterm Evaluation Steering Committee, created to provide advice and guidance on the evaluation strategies and processes. Its members and mandate are listed in Appendix 1. The evaluation was guided by a framework developed at the outset of the process and approved by the Committee, based on review of documentation and consultation with III and CIHR staff.
1.2 Program profile
1.2.1 Overview of the PPSRI
Objectives
The PPSRI is a component of the Government of Canada's Avian Influenza and Pandemic Influenza (AI/PI) Preparedness Strategy1, announced in May 2006. Aiming to improve Canada's ability to respond effectively to pandemics and other public health emergencies, the Federal Government committed a total of $1 billion2 over five years through the Public Health Agency of Canada, the Canadian Food Inspection Agency, Health Canada, and CIHR. With the overall goals of reducing illness deaths and societal disruption as a result of an influenza pandemic, the AI/PI Preparedness Strategy's specific objectives are:
To support research that will contribute to evidence-based decision making;
To ensure that safe and effective vaccine/antivirals are available on a timely basis to all Canadians in the event of a pandemic, including the development of a mock vaccine and build regulatory capacity in this regard;
To establish the organization structures and human resource capacity to support timely and effective planning, decision-making, coordination and action;
To enhance Canada's ability for the research and development of vaccines and improve the body of knowledge;
To increase the linkages and coordination of pandemic-related activities across jurisdictions; and
To reinforce public confidence in Canada's public health system before, during and after a pandemic situation.3
The PPSRI's research agenda encompasses a broad range of dimensions of pandemic preparedness. In performance measurement and evaluation terms, the PPSRI is identified in the AI/PI Strategy's logic model as part of the Knowledge Creation and Translation component of the Critical Science and Assessment activity grouping, whose outputs include funded research priorities leading to the immediate outcomes of "Enhanced capacity and response" and "Increased internal and external awareness, knowledge, and engagement." 4
Program development process
The PPSRI initiative evolved from information needs identified and issues raised at an Influenza Research Priorities Workshop held jointly by CIHR-III, PHAC and the Canadian Association for Immunization Research and Evaluation (CAIRE) in September 20055. PPSRI program development was facilitated by a five-member Task Group, formed by III upon consultation with its Institute Advisory Board (IAB) and key members of its research community. The Task Group's mandate was: to make recommendations on strategic research priorities and mechanisms; to develop outcome indicators/measures for research; to facilitate research linkages; to identify national and international experts to act as peer reviewers; and to identify partners and obtain funding to support necessary research activities. In particular, the Task Group was charged with developing research priorities specific to pandemic preparedness from those identified at the Influenza Research Priorities Workshop, which had focused on both seasonal and pandemic influenza. The priorities identified by the Task Group were validated through consultation with the Canadian Rapid Research Response Team and additional stakeholders in pandemic-related fields.6 Strategic priorities retained by the Task Group were:
Capacity building;
Vaccines and immunization programs: optimal use and efficiency of existing vaccines and development of new pandemic vaccines;
The virus: biology of the influenza virus and rapid diagnostics;
Prevention and treatment: modes of transmission, use of antivirals and alternate strategies for prevention;
Ethics, legal and social contract: research in risk communication, prioritization and the regulatory approval process.
These priorities were then translated into a series of funding opportunities for Canadian and international researchers, made available starting in Fall 2006. An important component of the PPSRI partnership process was inclusion of partners in relevance review to ensure that they could identify applications that aligned with their priorities and mandates as specified in the funding opportunities.
Following usual CIHR procedures, the funding opportunities' applications were adjudicated by peer review committees, among which were five committees created specifically for the PPSRI's core funding opportunities. Most of the funding opportunities included a relevance review process based on peer and partner review of letters of intent.
Program components
The PPSRI has offered several types of funding opportunities, designed to develop and support: leadership in pandemic preparedness research, collaboration and networking leading to heightened complementarity and critical mass, as well as overall research capacity. Some of the funding opportunities were offered through CIHR's ongoing slate of programs as priority announcements, and others were offered in partnerships with other CIHR institutes and organizations. The program components, totaling 29 in all to date, are summarized in Table 1.
[ Table 1: PPSRI program components, in chronological order of due date of full application ]
Program resources
The table below shows funds allocated to pandemic research for the period 2006/07 through 2012/2013 (one year beyond the current PPSRI end date of 2011), including allocations from the PPSRI and the contributions of internal (other CIHR institutes and units) and external partners. The total funds available for allocation over this seven-year period are $40,267,124; for the period 2006/07 – 2011/12, the total is $40,112,967.
[ Table 2: Pandemic research allocations managed through PPSRI, 2006/07 to 2012/13 ]
Figure 1 illustrates CIHR's overall actual expenditures on pandemic-related research (including expenditures on research funded through regular CIHR open competitions) from 2000/01 through 2007/08. These data show that while CIHR's expenditures related to pandemic had increased between 2000/01 and 2005/06, the creation of the PPSRI contributed to significantly more funding for pandemic related research in 2006/07 and 2007/08.
Figure 1: Overall CIHR Pandemic-Related Expenditures, 2000/01 to 2007/08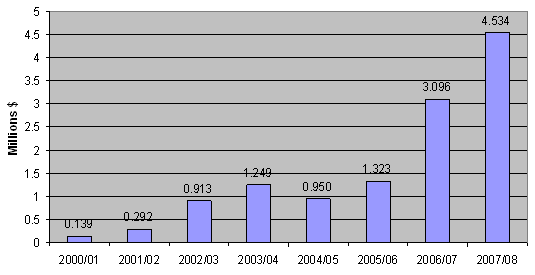 Data provided by III, as of December 2008.
1.2.2 Program logic model and expected outputs and outcomes
A program logic model for the PPSRI was developed by III and reviewed by the Task Group in June 20067. Based on review of available documentation as well as evaluation findings, a revised version is included in Figure 2. The logic model summarizes the inputs, activities, outputs, and expected short, medium and long-term outcomes of the PPSRI and the logical result linkages among them. The outputs and short-term outcomes – the focus of this midterm evaluation – are described in more detail below:
Effective organizational model for supporting pandemic preparedness research: this organizational model includes the mechanisms for: 1) identifying research priorities, based on knowledge gaps and the strengths and weaknesses of Canada's research capacity in pandemic-related research, as well as partners' interests; 2) translating the priorities into funding opportunities that capitalize on existing programs and structures and that introduce timely and attractive funding opportunities to the research community; and 3) coordinating interactions and exchanges at multiple levels, among researchers, partners, and research users.
Organizational and institutional linkages identified and created: these include linkages among national, provincial and private research funding partners, as well as international research efforts in pandemic preparedness.
This organizational model, including its linkages, is expected to produce two main outputs, as the platform for achievement of expected results:
A coordinated research agenda, that: addresses prioritized knowledge gaps; reduces duplication among funding initiatives available to Canadian pandemic researchers; and combines and leverages resources from multiple sources effectively.
Funded research, issuing from researchers' response to a coordinated, timely suite of funding opportunities that is : targeted to strategic, priority issues; designed and launched in a manner that reaches and attracts applications from the relevant research community; and reflects the application of principles of highest scientific merit in its competitive, peer-reviewed adjudication.
In the medium term, the PPSRI is expected to produce the following results:
Achievement of research goals: at the level of funded projects, networks and the overall program; including three types of goals:
Creation of new knowledge: in critical areas needed for informed decision making on pandemic preparedness;
Knowledge translation and use: communications of this new knowledge to key stakeholders including the research community, media, key stakeholders and parliamentarians for rapid and effective integration of research findings into pandemic preparedness strategies;
Building of capacity: to do research, and to train new researchers and re-orient established researchers in the area of pandemic preparedness. These medium term outcomes are expected to contribute to the long-term outcomes of sustainable multi-jurisdictional preparedness and response through evidence based-decision making and increased capacity to conduct pandemic preparedness research.
Figure 2: CIHR Pandemic Preparedness Strategic Research Initiative Logic Model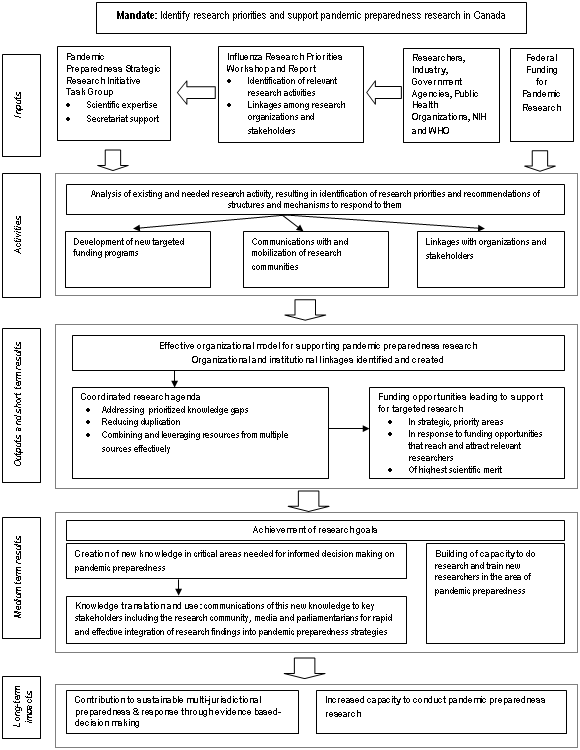 [ next section ]
---
Avian and Pandemic Influenza (AI/PI) Preparedness Performance Measurement and Evaluation Plan, Final Draft October 2008.
Part of this amount is a contingency fund that would only be provided in the case of a pandemic.
Avian and Pandemic Influenza (AI/PI) Preparedness Performance Measurement and Evaluation Plan, Final Draft October 2008, p. 9.
Logic Model for Avian and Pandemic Influenza (AI/PI) Preparedness, June 24 2008, v. 3.7
">Report on the Pandemic Preparedness Research Initiative, Institute of Infection and Immunity, CIHR
CIHR Pandemic Preparedness Research Initiative Logic Model, Draft, June 2006.
Date modified: