Annual Report 2006-2007
Touching Lives
Health researchers generally measure their success by indicators such as papers published, conferences and workshop papers presented, prizes awarded, patents filed. But there is a more central indicator - the application of the knowledge generated by health research to improve the health of Canadians.
You are going to meet in these pages some of the people whose lives have been improved by health research - people who, faced with their own or their families' health challenges, have been helped by the results of health research funded by CIHR. You are also going to meet some of the talented women and men who carry out this research - Canadian researchers who are among the very best anywhere.
The stories of these and many other Canadians motivate and are a source of tremendous satisfaction for the thousands of researchers throughout Canada who have devoted their careers and their lives to finding solutions to the health problems that affect so many people. They provide poignant examples of the ways that health research is, indeed, "touching lives".
---
Contents
Autism
I Would Walk the Earth for That Man
Rehabilitation
Only You Can Fail Yourself
Dementia
My Dad Probably Wouldn't Be Here Today
Breast Cancer
I Didn't Have Time to Fall Apart
Wait Times
As Different as Night and Day
Workplace Health and Safety
No Time for Injuries
Chronic Pain
The Future Belongs to People Who Have Dreams
CIHR: Overview and Highlights of 2006-07
International Panel of Experts Reviews CIHR's First Five Years
CIHR Makes Strides as an Organization
Engaging Canadians Outside the Research Community
Research Breakthroughs
Realizing the Economic Benefits of Health Research
Measuring Success
Providing Stewardship and Accountability
Financial Statement Discussion and Analysis
Auditor's Report and Financial Statements
---
2006-07 Expenditures by Research Area
(in millions of dollars)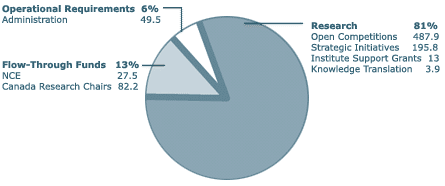 Total: 859.8
Note: Figures do not include refunds of previous years' grants and awards.
Breakdown by Strategic Outcome
(in millions of dollars)
---

Health research
511
60%
Health researchers in innovative environments
284.4
33%
Transforming health research into action
62.4
7%

---

Total
857.8
100%
Date modified: